AEJ 2012 Congress. Biggest Threat to Journalism Came from Abuse and Violence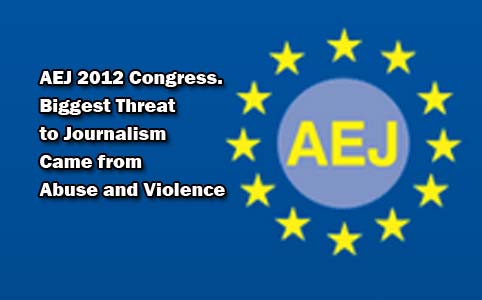 AEJ 2012 OFFIDA CONGRESS, Media Freedom Session. Notes and summary
by Firdevs Robinson, AEJ UK Section
26 october Session was Chaired by Media Freedom Representative William Horsley, on the panel were Jan Malinowski, Council of Europe (CoE) Head of Media and Information Society Department, Chris Bobinski of Poland, Andrei Aliaksandrau of Belarus and Kristina Hristova of Bulgaria.
William Horsley (WH) thanked Jan Malinowski (JM) for coming to AEJ's 50th Congress as the guest of honour.
WH said that the biggest threat to journalism came as the abuse from governments or from violence in places where governments are either incapable or unwilling to enforce law.
WH talked about OSCE's Safety of Journalist Guidebook produced by AEJ,  the ten AEJ Sections media freedom reports for the attention of CoE;  the important UN Plan of Action on Safety of Journalists and the Issue of Impunity,  the Global Media Editors Symposium held on 18 October in London and the" London Statement" issued from that meeting (see www.cfom.org.uk) and  the important UN Inter-Agency-Conference  being held in Vienna on November 22-23 to launch the UN Action Plan.
WH said that the aim of this session was to explore what Council of Europe (CoE) could do to help and how AEJ could use existing and new tools to help itself.
Jan Malinowski said it was a privilege to address a congress of a profession he holds in highest esteem. He talked about the importance of professional journalism for a democratic society. It cannot be replaced with social media, citizen journalism etc.  We had to keep an eye on where we were going with it and to protect it.
JM said it was nothing new for the media to be in trouble and gave the example of 1662 English law regulating it.
JM talked about Max Mosley case that was considered earlier this year by the European Court of Human Rights (calling for pre-disclosure to the subjects of newspapers revelations affecting their reputation), which was rejected (but earlier the newspaper concerned was found guilty of breach of privacy in a UK court).
JM had these messages:
Be assertive in upholding the freedom of expression. Unless journalists raised their voices and use the arsenal available, outsiders could not help much.
JM talked about CoE efforts to decriminalize defamation. Gave examples of dialogues with Azerbaijan and Italy.
JM said Human Rights Commissioner had freedom of expression as one of his mandates. Freedom of expression is often taken away with violence against journalists. First remedy to violence was journalists being assertive, vocal and challenging. JM praised UNESCO initiative and WH's active role in it.
JM talked about Internet Governance Forum to take place in Baku in two weeks' time.
Austria which takes over the chairmanship from November 2013 made protection of journalists one of its priorities.
The Council of Europe Media Steering Committee (CDMSI) Bureau would make benchmarks for member states – guiding a state about what to do to protect journalists, what needs to be done to investigate attacks. what needs to be done to protect sources, what is necessary to prevent judicial harassment of journalists through anti-terrorism laws and tax laws.
CoE had new procedures mechanisms.
Committee of Ministers, the governing body of the organisation instructed CoE to do more to protect journalists.
An internal task force in the Council of Europe has begun to collect information and disseminate it among all relevant branches of the organisation.
Example of Ukraine- when the Ukrainian parliament considered a defamation law, the task force studied and delivered information to various bodies inside CoE, making sure it flowed between various bodies. CoE interventions, with others, led the Ukraine government to withdraw the proposed toughening of the law). Small steps but they have potential.
Summary of the Council of Europe's main branches – each with their own "mandate":
Committee of Ministers – governing body instructing Member States
Secretary General – with political visibility and access to top levels of governments
Human Rights Commissioner – he is independent and there to promote human rights
The commissioner works on the principle of silent dialogue. He engaged with the Azerbaijani authorities to secure release of two bloggers. The commissioner often doesn't talk about his contacts.
European Court of Human Rights- after all internal avenues are exhausted, a victim can go to ECHR, as in the case of Eynullah Fethullayev in Azerbaijan.
Court usually imposes a fine and asks the country to remedy the situIt cannot demand somebody's release but in the case of Fethullayev, this request resulted with Fethullayev's release.
(NOTE: The Parliamentary Assembly of the Council of Europe, PACE, often raises political concerns about the behaviour of particular States – such as Turkey's jailing of scores of journalists. William Horsley compiled a wide-ranging report on The State of Media Freedom in Europe for the PACE, which was published in June 2012 and available on the Internet. The report is to be updated in December 2012 and is intended to inform a new PACE Recommendation to ministers, expected in early 2013)
CoE intergovernmental activities aim to create standards and help develop norms.
William Horsley summarised:
There is now a new avenue open to us. We can influence things. Task Force is a good beginning and we can help journalists more directly in places like Bulgaria and Armenia.
Chris Bobinski, showing a three-coloured map by Freedom House said that out of 6 countries in the Eastern Partnership, three of them was not free and 3 only partly free.
Five member countries of the EU have partly free status. These include Italy, Hungary and Bulgaria.
AEJ can play a role. The media freedom has been identified as the most important issue in EP region. Most are ruled by kleptomaniacs.  CoE and the OSCE are the two organisations that have instruments. CoE has legal instruments. AEJ should take an interest in both and play a role to push for change.
WH told delegates that Monday October 29 in Florence, the EU's Centre for Media Pluralism and Media Freedom will announced the results of its research, commissioned by the European Commission,  on EU  "competencies" in media freedom. The EU is exploring which powers it can claim over member states on media freedom.
Andrei Aliaksandrau  explored how one can use contacts in European institutions to promote change in Belarus. The EU is very important player because it has money. Since Belarus is not a member of CoE, it cannot use the European Court of Human Rights. European institutions need to be more pro-active. AEJ needs to be more effective for standing up for the media rights.
WH asked various country representatives to make suggestions as to how CoE could help and work with AEJ to move things forward. Any specific cases raised by Sections, or requests for CoE support, should be sent or copied to William, to coordinate the AEJ input to the newly-started CoE "light-touch" information-gathering mechanism.
He reminded the UN conference coming up in November, 22-23 in Vienna. If the media and civil society articulate clear demands of UN member states under the UN Action Plan, it can  succeed in bringing more effective protections for journalists everywhere from physical and legal violence, he said.
Maya Zakhovaiko from Ukraine said journalists were really worried about defamation laws. After the elections at the  weekend, she suggested CoE should focus on this issue.
Andrei A pointed out that Ukraine will take over the chairmanship of the OSCE next year and there would be more opportunities to press the Ukrainian authorities.
Ozlem Doganer from Turkey identified their number one priority as trying to publicise the cases of the jailed journalists in Turkey. She said legislation needed to be changed. When asked by WH what her message to CoE would be, she replied "facilitate European journalists' trip to Turkey to watch trials and report about it and to interview Turkish journalists".
Liana Sayadyan from Armenia wanted two things. First of all, she wished for a successful cooperation between local journalist organisations and European organisations, particularly with the OSCE on defamation cases. She said AEJ Armenia concentrated all their efforts on this issue. The result is the Armenian judges are now following European convention better. LS identified the main problem in Armenia as violence against journalists. She said journalists didn't believe the police would investigate seriously. Parliamentary elections showed there wasn't much progress in the battle against impunity. Secondly, she asked CoE to force governments to uphold their obligations. She also wanted concrete steps.
WH drew attention to the adoption of the first ever general Resolution in the UN Human Rights Council on the Safety of Journalists, last month – a remarkable achievement for Austria, which had resolved to make journalists' safety a top foreign policy priority during its 3-year term (from 2011) on the HR Council in Geneva.
Otmar Lahodynsky  warned, nevertheless, about the threat of fines or imprisonment facing two colleagues in Austria arising from the fact of conflicting legislation in European states. What is perfectly legal in one country may be criminal in another. As in the case of Profil magazine which is legal in Austria but banned in Germany. Being able to read it online complicates matters further. Anyone writing an article would have to check 27 different member countries legislation to stay within the law.
Turning to Hungary, Jan M said at the beginning this year, CoE thoroughly examined the Hungarian legislation and communicated the results to the government in Budapest.  Dialogue is still continuing about  a number of areas where the Media Laws are deemed not to conform to European Convention norms, such as the regulatory framework in public sector broadcasting and shortcomings of community and local media. CoE has also objected to the sweeping provisions on regulation of media content.
Jozsef Martin of Hungary talked about having more than just three colours on the media freedoms map, with many more shades in between. He talked about a 44 year-old journalist working for a right-wing newspaper who was criticising the current right wing government of Hungary. The Hungarian news agency sued him for roughly 30 thousand Euros. His trial due to be held on 19th February should be watched carefully. The gravest problem in Hungary was the state of the public media. However JH warned against claiming there was no media freedom in Hungary.
Jan M commented that it is not so much how a law is used today but more importantly how it can be used tomorrow. Potentially, legislation such as the one in Hungary could be used to curtail press freedoms.
Italian member Alberto Spampinato told the Congress that their monitoring of intimidation of journalists identified 1200 cases in 6 years. Their data base (notiziario.ossigeno.info) contains names, surnames, details of the episodes. It is serious information, in several languages and it is double-checked.  AS asked  CoE to help them to bring this problem back to political agenda. "Bigger problems in other countries should not distract from our problems" he said. In regions where Mafia is stronger, journalists faced greater pressure. AS's regular Newsletter also highlights other serious failings in Italy's record on press freedom, including conflict of interest concerning the extensive media holdings of former prime minister Berlusconi during his years in office.
Carmelo Occhino said it was the 40th anniversary of Alberto's journalist brother Giovanni Spampinato's killing. William H invited the congress to stand for a moment's silence in memory of Mr Spampinato.
Javier Arribas from Spain talked about large numbers of journalists being unemployed and asked what the EU and CoE could do to help them.  He also highlighted the shocking practice whereby Spanish media are now routinely prevented by political parties and government authorities from doing their own fact-gathering or filming, or even from asking questions at so-called "press conferences". This especially distorts the  election reporting – WH noted that the EBU has a charterwhich the member states have to uphold. However, they failed to implement it in Azerbaijan during the  Eurovision song contest in spring 2012. If you put this to EBU, you'll have a strong case."
Kristina Hristova from Bulgaria said journalists generally feel under intolerable pressure from owners or editors, which leads to self-censorship.  But the Bulgarian government is very conscious of its image abroad. She asked Europe to continue criticising Bulgaria. She cited as a good example of cooperation the case of one journalist coming under pressure and the case being widely publicised by international organisations. She wanted this from other international organisations, not just from CoE.
Teodora Stanciu of Romania talked about journalism being under danger from inside and outside for journalists being manipulated both by big businesses and from outside powers. External pressure in support of journalists worked. She talked about Romanian journalists suffering from the legal system and injustices. She also urged not to just look at the government. Private media companies were just as problematic.
Jan M once again emphasised the need for journalists themselves to raise their voices and demand action from international organisations such as CoE. If demand is high, even slow bureaucratic organisations would speed their response time up. Key issues included: What are your agreed conditions of work? Which red lines should not be crossed? On confidentiality clause, what would or would not be acceptable to you? How do we create opportunities which will be the new model for journalists in the new media environment?
Miloje Popovic from Serbia said a new media law was in the making and their request from CoE was to help frame it in European norms, injecting accepted European principles of journalism into it. Especially in the sphere of public broadcasting, Serbia has problems similar to other countries. Serbian AEJ wanted the EU and CoE 's support to encourage the Serbian government to make the new law based on accepted European standards of journalism. Financial stability of the public service in Serbia was important. Without it, public service cannot be independent. Serbian AEJ wanted CoE to support Serbian public service broadcasting and they would be sending a letter to CoE, requesting that.
Jan M suggested making a television programme with some experts to talk about what CoE expects of a public service broadcaster. He offered to put Serbian colleagues in touch with CoE experts on the issue.  WH pointed out that Belgrade is due to host the CoE Ministerial conference of Media ministers in autumn 2013, where all relevant issues could be raised.
Peter Kramer talked about a recent incident at the EU Commission. While the Chinese leader was visiting the commission, a press conference was called. All accredited journalists were invited. Chinese side wanted to vet those attending. Chinese side refused to take part in the presser without an approved list.
Firdevs Robinson (UK) raised two issues. She talked about young, untrained and unsuitably prepared Turkish journalists being sent to Syrian border areas for war reporting. She said she was concerned about low standards of duty of care by media organisations. She also asked CoE to keep an eye on Turkey's official steps to make blasphemy a crime against humanity. Turkish prime minister Erdogan gave orders to start a new blasphemy legislation in Turkey and said his country would lead demands for an international blasphemy law. FR found this another threat to freedom of speech and asked CoE to keep an eye on this issue.
Jan M said CoE had 2008 Guidelines for deployment of journalist at times of crisis and it dealt with issues such as training. A government can be held to account in a court for ignoring these guidelines on States' obligations towards journalists in areas of conflict and tension. As for blasphemy issue, CoE had a vested interest not to allow worries over hate speech and insult to religion damaging freedoms. Offending someone was a very subjective judgement. As long as there is no incitement to violence, making comments some people may find objectionable is not illegal. Making offence illegal was a slippery slope and one needed to strike a balance. A strong editorial approach based on professional conduct was the best way to deal with the issue.
Enzo Farinella (Ireland) strongly objected to the view that it people have a right to offend. He said the AEJ should not support the idea of  offending being a right, and he criticised French cartoons depicting the Prophet Moha.
Jean-Sebastian Lefebvre disagreed that by publishing cartoons, the French magazine was intent on offending. They were exercising their right to criticise the prophet just as they criticise Christianity.
Koos van Houdt suggested we shouldn't advocate any kind of media laws. "Advocate for being against any kind of media law" he said.
Jan M said CoE recognised there was a problem with jurisdiction over content put on the internet where people can fall on the wrong side of the law. He said illustrated examples of cases would be very helpful. On the issue of "offence", he wasn't talking about a particular publication. ECHR decides on case-by-case basis.
WH invited  Christophe Leclercq, editor and founder of  Euractiv, who proposed a collaborative consultation with the AEJ about  the economic dimension of press freedom and sustainability of the media. He asked CoE for some financial help to be made available to struggling media organisations. He acknowledged that may make matters worse in some countries but in others, it can produce positive results. He asked if it was possible establish a working group looking into under which conditions public financial assistance would promote press freedom.
WH agreed to sound out various AEJ Sections and members who had raised acute concerns about these points, with a view to giving a platform for expressing those concerns to European institutions, including the EU and the CoE, if an effective way could be found for doing that.
Zdenko Duka of Croatia said printed press was losing circulation and adverts were drying up. They needed state help to make journalism better. He asked for help with public money, cutting taxes and some other unspecified support to the media. ZD said Croatian media had no transparency in its ownership and some interests were joined.  He urged journalists associations to get together with publishers to save the print industry.
Jan M wrapped up saying they should explore ways to support journalism and the journalists. We should look into new business models to enable journalists to do their jobs decently. He wasn't sure about the outlook for print journalism, but there was a strong case for supporting public service media.  He said the next ministerial conference in Serbia in 2013 would probably have safety of journalists on its agenda, given Austria's lead on that issue and the evident demand.  Another issue that may come up was online surveillance and monitoring. There were big challenges because of the internet. Confidentiality of sources and protecting these in the new media environment was another difficult issue.
WH asked whether the AEJ could start collecting information for the Task Force. JM said yes, they should be sent to CoE. They may not be activating it immediately but they will process it and let AEJ know. WH welcomed the opportunity for all AEJ Sections to have their voices and concerns heard, and repeated that as MF Representative he would do his best to coordinate the most pressing concerns, including those described in the 10 written MF Reports prepared for this Congress, and channel them to the CoE Task Force and other parts of the CoE system directly.
The next opportunity would be at the Media Steering Committee meeting in Strasbourg on November  27-30, which he would attend on behalf of the AEJ.
WH thanked JM for coming to the congress and apologised for over-running. Koos van Houdt's presentation on regional policy would be on the Agenda for  the next day.

I contenuti di questo sito, tranne ove espressamente indicato, sono distribuiti con Licenza
Creative Commons Attribuzione 3.0