Bad News from Italy. Threatned Journalists. Same recent serious case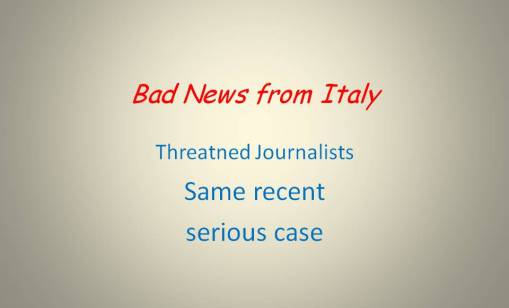 Recently Ossigeno had any very serious cases to cover. The observatory has still few resources to produce notes in english on a regular basis. What we can do is this short report to give the sense of events that, together with information, also limit the freedom of citizens to exercise their rights, and therefore, even if they occur in Italy, they are non only of italian interest.Our counter signs 292 threatened journalists in Italy this year. Last year it  stopped at an altitude of 325. In the last six years we counted almost 1200 cases.
Despite these data, the question of journalism threatened has not yet gained in Italy the attention of the political world and the media.
But something begins to move, and in large part this is due to the work of reporting and documentation done by Ossigeno per l'Information.
At the moment Ossigeno's Reports are being examined by the Antimafia parliamentary committee, that since February is conducting a series of hearings of journalists threatened in the southern regions: their stories have come to light because our observatory has documented them.
Recently the Ester Castano's case had a huge media visibility that still stands. She is a young journalist, 22 y.o. repeatedly sued and intimidated by the mayor of a small town ten kilometers from Milan, before the mayor was arrested for his links with mafia characters.
Very serious is also the case of Marilù Mastrogiovanni, 42 y.o. Last october she and her family were threatened because she revealed in a journalistic investigation how in Puglia, is land, any companies that end up out of business contracts because of the links with organized crime can come again into play evading controls.
Next 27 november we will celebrate the International Day for the Elimination of Violence Against Women inside one of the most prestigious meeting room of the Parliament with four threatened journalists women as honour guest. They will tell their experiences.
Next 10 december in Roma we will have a conference over italian threatned journalists with host Pietro Grasso, anti-mafia national prosecutor.
We need international support to continue our way.

I contenuti di questo sito, tranne ove espressamente indicato, sono distribuiti con Licenza
Creative Commons Attribuzione 3.0