Elections: Grillo Insults and Discriminates against Italian Journalists.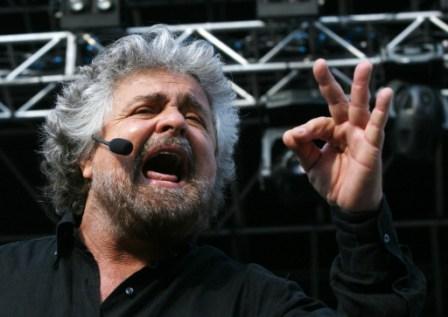 The peek at the  closing campaign rally
ROME – At the closing campaign rally in Piazza San Giovanni, the leader of the Movimento 5 Stelle (5-Star Movement), Beppe Grillo has allowed only foreign journalists to access the press area of ​​the stage. On behalf of the Italian press, there was only the TV crew for 'Sky TG24', which had exclusivity on the live broadcast. After strong protests, the organizers granted the Italian press access to an area close to the stage, albeit a different one from that given to the foreign press from where it was possible to get close-ups and interviews with the speakers. In his speech the leader of the movement expressed negative judgments in a threatening tone to Italian journalists, with phrases like: we will sweep you away.
There couldn't have been a more emblematic conclusion of an electoral campaign that has seen numerous incidents of intolerance against journalists and their work, establishing a general climate of refusal of pluralism, of any criticism, and of the typical journalists' "vice" to ask potentially embarrassing questions.
The Secretary of the FNSI, the national press federation, Franco Siddi commented: "Grillo doesn't want Italian journalists as they may ask him uncomfortable questions. This should be always remembered, even when large crowds gather around him as it is natural for anyone who is an histrionic artist, that is, an artist of the circus." Even the president of the Journalists' Association, Enzo Iacopino, took a stance: "It is a shameful act. Journalists do not have special rights, but obligations to honor. The first and foremost of which is to tell the public what happened in the square and what has been said." The foreign press, too, expressed solidarity with the Italian journalists: "We regret that the Movimento 5 Stelle in this important moment for the Italian political life shows no respect for the freedom of the press in Italy and for the work of the media to cover the election campaign, of which this event is a part" said the President of the Foreign Press Association in Italy, the German Tobias Piller.

I contenuti di questo sito, tranne ove espressamente indicato, sono distribuiti con Licenza
Creative Commons Attribuzione 3.0