Afragola: A photo-reporter from the daily "Il Mattino" has been harassed and intimidated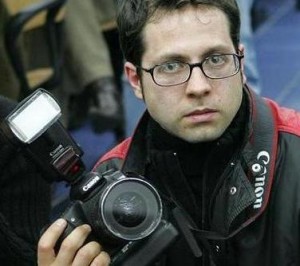 Renato Esposito, a photographer for the largest daily newspaper in Naples, 'Il Mattino', was attacked in the street while waiting to take a picture of the former Senator and Mayor of Afragola, Vincenzo Nespoli, under his house.
The former senator was expected to go to the Guardia di Finanza, who had summoned him for issuing an order of house arrest as a prevention measure awaiting trial. The photo-journalist was assaulted by a family member of the Senator, and was thrown to the ground just to keep him from taking pictures. The intervention of the Guardia di Finanza helped avoid the worst. The Police has then blocked the aggressor and rescued the journalist.
As Renato Esposito said, these incidents are very common. "I always keep a low profile and I do not respond to provocation. I try to explain calmly that I am only doing my job and following the directions of my newspaper. But the gentleman did not want to listen to reason. He began to shout, to say that I could not stay in front of the home of Senator Nespoli, said that I was not on public soil. But I was right in a public road! I did not expect that this gentleman would hit the camera and force me to lower it. I nonetheless tried all the same to take pictures, but he pushed me violently against a parked car. At that point I asked for help. There were many people, but no one intervened. Luckily I was rescued by the Guardia di Finanza."
This is was not the first time that Renato Esposito was intimidated through violence while doing his job. He remarked that "more attention should be paid to our work, for we are exposed every day to risks and dangers. "
The Neapolitan Press Association expressed solidarity, as well as the Association of Journalists of Campania, while the Union of Journalists for Visual Information (UGIV) denounced "the serious climate in which the information operators are forced to work " and has asked for "concrete actions by the institutions and law enforcement to protect journalists."

I contenuti di questo sito, tranne ove espressamente indicato, sono distribuiti con Licenza
Creative Commons Attribuzione 3.0