Bologna, journalist beaten by a police officer during a demonstration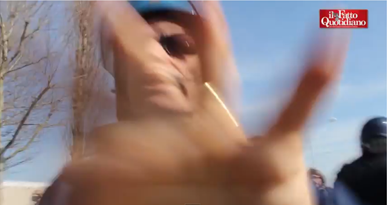 BOLOGNA – A journalist of 'ilfattoquotidiano.it' was assaulted by a police officer while filming clashes between the police force and a group of porters from Emilia who were protesting by obstructing the entrance to some industrial facilities in Bologna. The aggression occurred in Anzola outside the headquarters of the Central Coop. The reporter was treated in hospital and had a five-days long prognosis.
The reporter, Mr. Giovanni Stinco, was manhandled and hand beaten to the throat and on the back, suffering damages to one eye. The video shot by the same reporter during the police charges clearly shows the different phases of the attack. It is possible to hear Mr. Stinco cry "I have nothing to do with it, I'm a journalist", while the policeman is beating him. The policeman's reply is also recorded: "I don't give a fuck, get this camera away…Bring him in and give me the documents." And then the insults: "You piece of shit, what are you filming about? What are you filming on you moron?" At the end Mr. Stinco was able to prove to be a journalist and exhibit his professional pass. At that point, the policeman apologized.

I contenuti di questo sito, tranne ove espressamente indicato, sono distribuiti con Licenza
Creative Commons Attribuzione 3.0