Patrizia Aldrovandi: the picture of Federico dead torments me, but it is right to publish it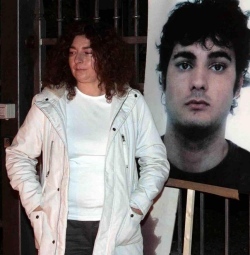 OSSIGENO – Rome, March 18, 2013 – The photo is raw and impressive and each time it is published it provokes discussions and controversy. It shows, lying on a white pillow stained with blood, his face bloodied and swollen of a handsome lifeless young man. His eyes narrowed, his hair disheveled. It is the image of the body of Federico Aldrovandi, the eighteen-year-old boy died in Ferrara as a result of the beating of four policemen who had stopped him on his way home at dawn on Sunday, September 25, 2005.
After 7 years the photo was recently republished by the online journal estense.com, in support of an opinion column written to refute some of the assertions contained in a flyer distributed by the police union, which was defending the police colleagues convicted of excess in manslaughter and who are now in jail.
The controversy erupted again over the use of such raw images for information purposes. Mr. Enzo Iacopino, president of the National Order of Italian Journalists, has called for the picture to be "erased from the archives." But the boy's mother defends the choice: "In this case it was necessary to defend the truth about the death of my son". Ms. Patrizia Moretti who has always wanted to publish that picture of her wounded son on the blog open on January 2, 2006 in order to try to break the deadlock of the judicial inquiry and to refute the official version of the boy's death due to an excessive dose of drugs.
Patrizia Moretti has no doubts. It was right to publish the photo and do so every time someone calls into question the truth, now also established by the Courts: "of course, for us it was very painful to see that picture, but it was necessary." And who goes on to describe his son as a "toxic", a "crazy", the only solution – she said – is "still to publish the photo, because it alone tells us everything that has happened. It is extreme, but it highlights the truth."
On March 26, the last judicial act of this dramatic story ended with the acquittal of Ms. Patrizia Moretti. The woman, who had harshly criticized the deputy prosecutor on his blog Mariaemanuela Guerra, was found not guilty of defamation of the prosecutors who had sued. The journalists of the daily "Nuova Ferrara", Alessandra Mura and Marco Zavagli, the reporters who kept the case live and followed all subsequent and thorny developments, were also acquitted.

I contenuti di questo sito, tranne ove espressamente indicato, sono distribuiti con Licenza
Creative Commons Attribuzione 3.0