Books about mafia, threatened mayors and journalists presented at the "Trame" festival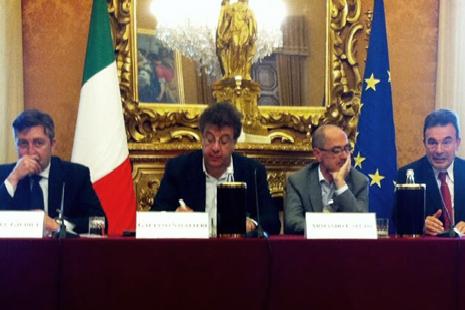 The third edition of the festival will be presented at the Chamber of Deputies, from June 19 to 23 in Lamezia Terme
The civil response against mafia is strengthened by the participation of many young volunteers. The definition was chosen for the "Trame festival of books about mafia" by Gaetano Savatteri, the new artistic director, during the presentation of the programme in Palazzo Montecitorio on June, 10. "The festival is more than an event, it is something more significant and of greater importance", Gianni Speranza, the Mayor of Lamezia Terme stated, being pleased that his town is hosting the festival for the third time.
The head of the Italian Association of Editors office of Rome, Fabio del Giudice, not only has offered funds for the festival but he also proposed a training programme for young participants, "particularly to explain students, throughout a workshop, the challenges of working in the world of publishing". Armando Caputo, president of the anti-racketeering association of Trame which was founded 10 years ago, claimed: "We are entrepreneurs now free from the attacks of the mafia, however our personal liberation is not enough since it also has to take place culturally. Trame 3 is in fact a great chance for spreading cultural freedom."
The director of Ossigeno, Alberto Spampinato, pointed out that today is more dangerous than ever to publish unpleasant news for violent or powerful personalities. The newspapers are more prone to economic restrictions while precariousness is weakening the journalists, thus triggering "the violent and masked censorship which is very common in Italy and worsened by the legislative vacuum which allows the blackmail. As a first measure, the new antimafia commission should be re-established in the Parliament" explained Spampinato.
A "Spazio-Ossigeno", a seminar dedicated to the discussion of these topics, will be opened during the Trame Festival. During the meeting, scheduled for Friday, June 21 at 5.00 PM, there will be presented the file of records of Ossigeno regarding the 2012 enquiry of the Parliamentary Antimafia Commission on the pressure, intimidations, threats and legislative gaps which are a hindrance to Italian journalists' news and enquiry in Sicily, Campania and Calabria. The other meetings with Ossigeno will be held on June 20 and 22.
Two Mayors of two Calabrian municipalities, Elisabetta Tripodi from Rosarno and Maria Carmela Lanzetta from Monasterace, also bore witness of threaten. They both confirmed that running a City Council by the rules should be normal but for those stroke by the mafia, like their own, it is not. And in the Northern Italy neither, hence the programme of exporting the Trame Festival in the North as well, claimed Alessandro De Lisi, head of the Center of Social Studies against mafia in Lombardia. The press committee of the Festival has been received then by the President of the Chamber of Deputies, Laura Boldrini, who declared that it is necessary to consider the healthy part of the country, those mayors and volunteers who acted heroically, for instance. Such cases must be rewarded by the institutes.

I contenuti di questo sito, tranne ove espressamente indicato, sono distribuiti con Licenza
Creative Commons Attribuzione 3.0