The Atlas of threats. The Ossigeno's data published on the Web in open data format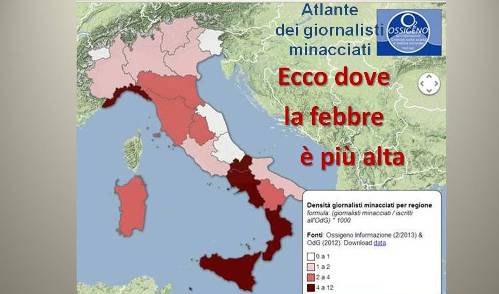 The data of Ossigeno are from now on available on the Internet. Some maps show where the danger is higher, while others show where threatened journalists live, city by city
Concerning the freedom of the press, the map of Freedom House goes on and on sinking Italy as low as the Balkans and colouring its profile in yellow. If you really want to know Italy, then you can compare its map to plenty of colourful, easy to navigate geopolitical maps which are accessible for free on the web. These open-data format maps show information retrieved by Ossigeno concerning journalists threatened in 2012 and it is by these graphics that data speaks for itself: it has the clearness of a street signal.
For example, these maps show in a twinkling of an eye how many journalists are threatened in each city, where they are and how they are placed. In addition, finding out who the victims are and what happened to them is just one click away. Other maps show the density of the threats region by region, as if it were a lapse rate, thus belying those reassuring clichés of people who think they live in a peaceful place. The first of these belied clichés for instance, is believing that only the journalists of the extreme South are subject to the risk of being threatened. Anyone can find out by himself more interesting data.
Such statement will reinforce and expand the project of Ossigeno per l'Informazione, a project conceived and realized by a team of volunteers and supported by the Ahref foundation (an NPO which aims to improve the quality of information in the media).

I contenuti di questo sito, tranne ove espressamente indicato, sono distribuiti con Licenza
Creative Commons Attribuzione 3.0