In Italy urgent need to reform defamation laws, calls Article 19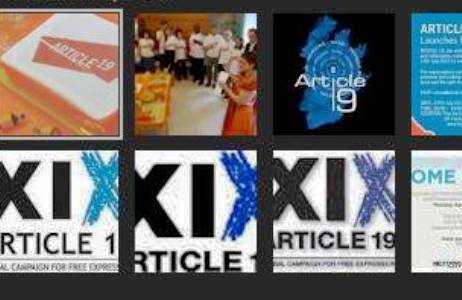 A statement for full decriminalization sent  from the ONG  based in London to italian Parliament. "We are seriously concerned"
In a letter to the Italian Chamber of Deputies and the Senate, issuend on 25 June 2013, the ong Aricle 19 calls for full decriminalization of defamation and for the revision of Draft Bill No. 925 (Costa). Although the Draft Bill is a positive move towards reform of Italian defamation legislation, it is insufficient to protect freedom of expression. We also call on the Italian Parliament to grant amnesty to all journalists convicted for defamation.
ARTICLE 19 is seriously concerned that despite national and international outcry, journalists in Italy continue to be imprisoned for defamation on the basis of a law inherited from the Mussolini regime. The latest prison sentence for defamation was given, in May 2013, to Giorgio Mule, editor of the Milan-based weekly magazine, and Andrew Marcenaro and Riccardo Arena, journalists for the same magazine. They received eight months and one year in jail respectively in connection with an article published in 2009 about the connections of the family of Francesco Messineo, Palermo state prosecutor, with organized crime. They were also ordered to pay EUR 20,000 compensation to the defendant.
ARTICLE 19 recalls that international and regional bodies have long recognized the threat posed by criminal defamation and have recommended that it should be abolished. In particular:
In 2006, the UN Human Rights Committee called on Italy to "ensure that defamation is no longer punishable by imprisonment".
The UN Special Rapporteurs on the Right to Freedom of Opinion and Expression repeatedly stated in their annual reports that "penal sanctions, in particular imprisonment, should never be applied."
In Resolution 1577 (2007), the Parliamentary Assembly of the Council of Europe has called on member states to abolish prison sentences for defamation without delay.
The European Court of Human Rights has found, on several occasions, imprisonment for defamation to be a disproportionate restriction on right to freedom of expression and emphasised that such a penalty has a chilling effect on journalists and media. This also applies to cases when the sentences have not been effectively executed.
ARTICLE 19 believes that there is no justification for retaining criminal defamation in Italy. Civil laws provide adequate protection and remedies in defamation cases. Moreover in Europe, prison sentences for defamation against journalists are issued in only Italy and Belarus.
ARTICLE 19, therefore, finds that the reform of the defamation legislation in Italy, initiated by the Bill No. 925 (Costa) on 13 May 2013 – which proposes amendments to the Criminal Code, the Press Law and the Code of Criminal Procedure – is timely and should be adopted without delay, subject to changes outlined below. We commend a number of positive features of this Bill:
The Bill proposes an abolishment of the imprisonment for defamation.
It proposes to cap compensation for defamation at EUR 30,000 euro in order to stop claims for excessive compensation.
It also grants journalist defendants in defamation cases the right to take legal action against claimants who use defamation laws to harass the media.
At the same time, ARTICLE 19 finds the following provisions in the Bill problematic from the perspective of international freedom of expression standards:
Defamation is not decriminalized: Despite the abolishment of imprisonment for defamation, the Bill does not remove the crime of defamation from the Criminal Code. There is no justification for retaining criminal defamation in view of the fact that civil laws provide effective remedies for damages to one's reputation. ARTICLE 19 notes that many states in Europe have already decriminalized defamation.
Banning from practice: Under the amendment to the Press Law, journalists can be banned to practice their profession for 1-6 months. This sanction can be imposed together with another penalty for most serious offences. ARTICLE 19 considers that any ban – be it temporary or unlimited – to practice journalism is unnecessary interference with freedom of expression.
There is no requirement for proportionality of compensations for non-material damages: An amendment to the Press Law states that compensation for moral damages is to be given on the basis of equity. However, under international law any sanction and compensation leading to interference with the right to freedom of expression must be both fair and proportionate. The legislation must explicitly require that the proportionality of the restriction be taken into consideration when imposing compensations.
Provisions on online defamation are unclear: the amendment to the Press Law states that all Internet sites with "editorial nature" are liable for defamation. This provision is vague as it does not elaborate who is responsible for the acts (we note that "the site" as such cannot be a legal subject). It is equally unclear what is meant by "editorial nature" and whether this means that bloggers or users of social media sites are to be considered as editors for the purposes of the legislation. It is not clear whether there will be liability for defamation for third party comments posted on such sites. These provisions are incompatible with international freedom of expression standards that require laws restricting freedom of expression to be drafted with sufficient clarity.
These shortcomings for the Bill must be addressed before it is adopted. ARTICLE 19 stands ready to provide further support to the Italian legislators in this process.
Previous ARTICLE 19 materials on the need of reforming defamation legislation in Italy are available here.

I contenuti di questo sito, tranne ove espressamente indicato, sono distribuiti con Licenza
Creative Commons Attribuzione 3.0