Near Rome two more burned vehicles of a journalist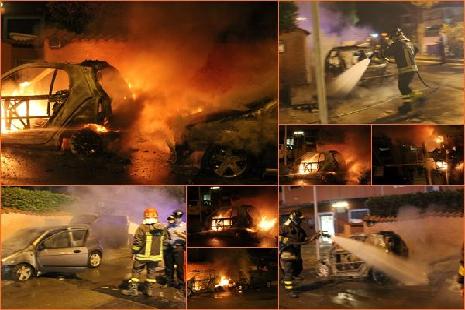 A week from the first attack which destroyed the cars of Luigi Centore. Under his house found a stolen vehicle with an arsonist liquid inside
The journalist Luigi Centore, 65 y.o., suffered another arsonist attack,the second in one week, in the night between Monday 15 and Tuesday July 16. At half past one in the night were torched the cars of his brother and his nephew, a Smart and a Daewoo parked in front of their house, near the surveyor office of Centore. Ardea is a small town near Rome of 40 thousands inhabitants.
Six days before Centore had suffered the arsonist attack who destroyed his own car, a Fiat Panda, parked in the street near his house. In 2005 another car of Centore was destroyed with fire.
Even this time, when the firefighters of Pomezia and the local police led by Antonio Landi arrived on the spot, the cars where totally destroyed by the flames. In addition nearby, the police noticed a Ford Fiesta in which was visible a bottle. It was found that contained flammable liquid and that the car had been stolen on July 6.
Centore does not hide his concern over the escalation involving his family members, who have nothing to do with his business journalism. "I'm just exhausted. Tonight – he said – not knowing where to turn I called the Mayor and asked him for help. I received a sharp response and the invitation to speak to others".
According to "Il Faro online," the website with which Centore collaborates, the attack is part of the classic mafia style also for the fact that the warnings are involving family members.
"I think the Anti-Mafia should intervene here. I hope – the journalist said – now that does not happen something more serious. I do not feel the presence of the institutions close to me. Like me, many of my fellow citizens feel abandoned, " Centore said.
Among the first attack, made on July 9 and the last one, the journalist has written other articles on the degradation of the neighborhood Salzare of Ardea, denouncing the absence of checks on commercial irregular activities and commercial interests by various politicians.
"I am sure that these attacks were caused by my complaint of unauthorized activities in Salzare. Investigators have considered my hypothesis".
Ongoing investigations are conducted by the Command of the Carabinieri of Ardea.

I contenuti di questo sito, tranne ove espressamente indicato, sono distribuiti con Licenza
Creative Commons Attribuzione 3.0