Journalists. Ossigeno calls Osce for threats monitoring across Europe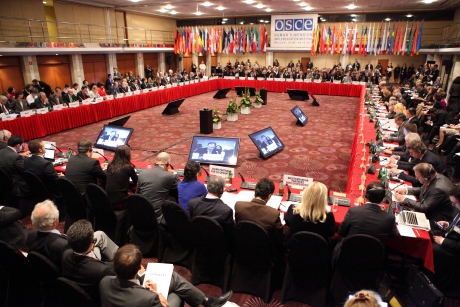 At OSCE human rights meeting HDIM in Warsaw, Spampinato offers the italian experience that uncovered thousands of intimidation
Warsaw – "We ask OSCE to verify if in other European countries occur so many intimidation, violence against journalists and abuse of the charge of defamation as in Italy, where this phenomenon represent a devious attempt to impose illegally the censorship banned by law", stated Alberto Spampinato in Warsaw, during the annual human rights conference (Human Dimension Implementation Meeting) attended by official delegations from 59 countries and international organisations, as well as numerous non-governmental organisations, among which Ossigeno per l'Informazione.
"It's necessary to understand why," said Spampinato, "while many countries are still struggling to ban traditional censorship, in the heart of modern democracies, in the most developed countries, disguised and subtle forms of censorship are occuring widely, without being nipped in the bud. In Italy, with Ossigeno, we have evidence that this happens. Our monitoring, which distinguishes 29 types of intimidation, has identified 1,488 victims in five years between journalists and other media workers. We think that something similar happens in countries like Italy and we offer our method of observation and experience to verify it."
The meeting in Warsaw opened with a report from the Representative on Freedom of the Media, Dunja Mijatovic, who said: "Unfortunately in the last year we have seen little progress. In many countries the same problems still remain, a dramatic limitation of freedom of expression, and lack of the political will by the government authorities to implement commitments already agreed. We will push for their involvement, because there is no other way to solve these problems.
The most difficult situations for the work of journalists have been reported by NGOs in Russia and former Soviet countries, while European countries have mostly spoken about their commitment to solving the problems in this area of the world.
"We believe – said Spampinato – it is in the common interest to know if the most advanced countries, taken as examples, censorship is present in subtle, new forms."

I contenuti di questo sito, tranne ove espressamente indicato, sono distribuiti con Licenza
Creative Commons Attribuzione 3.0
/