Blogger with audio recording alleges mistreatment by police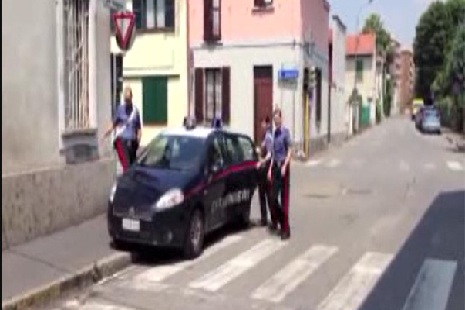 Andrea Mavilla files another complaint with the authorities against the Italian police (Carabinieri): "They wanted to send me to jail." "The law should be equal for all, but in Italy, not all are equal before the law," comments Andrea Mavilla, the blogger charged and searched by the police for video recording a police car parked on pedestrian crossing. The incident was recorded on 7 June, but it aired on 25 September, on the TV show Le Iene, on the channel Italia 1.
"Now that my story has been broadcast and audio evidence has been provided, the case has been reversed. It's what we were hoping for," explained Mavilla. The blogger, in fact, after having been brought to the police station, had lodged a complaint through his attorney on 10 June, without claiming, however, to be in possession of audio evidence.
"Together with Matteo Viviani – one of Le Iene's journalists, I decided to not present the recording which proved the search, the tone of voice used by the Italian policemen (Carabinieri) and the fact that they drove me in their car to the police station, because we wanted to demonstrate that the Italian justice system doesn't work well," explained Andrea Mavilla. "They wanted to send me to jail and if I hadn't provided audio evidence, I would have been behind bars at not even 30 years old" added Andrea Mavilla.
The blogger was charged with insulting a public official and aggravated defamation. "I did not commit these violations, they only wanted to get back at me. The Italian police (Carabinieri) declared that they entered my house without intimidating me and without committing psychological violence. In addition, they also affirmed that I went to the police station with my own car. All of this is not true and the audio evidence proves it," he asserted.
"After the Le Iene TV show aired, in fact, I lodged other complaints against the Carabinieri for kidnapping, because they forced me to go to the police station in their car, and defamation, because I was charged with crimes that I never committed" he affirmed. These two complaints were added to the others: housebreaking, abuse of power, abuse of authority, psychological violence and threats.
The televised report by Le Iene – where Andrea's story was told with the support of audio evidence – should not have been broadcast. Monza public prosecutor Donata Costa, who is in charge of the case, had ordered the TV show to not air the piece. "Matteo Viviani and the TV producer of Le Iene took on the responsibility and decided to broadcast the televised report" explained Mavilla. When the investigations on the blogger were closed, the following violations were alleged: insulting a public official, aggravated defamation, disposing the removal of the video from YouTube. " Now the situation is completely reversed and the public prosecutor's office in Monza will investigate the Italian police (Carabinieri)," the blogger concluded.
Tradotto da Laura Mastri
Revisionato da Cristina Di Battista

I contenuti di questo sito, tranne ove espressamente indicato, sono distribuiti con Licenza
Creative Commons Attribuzione 3.0