Hackers Attack Online News and Research Centre Website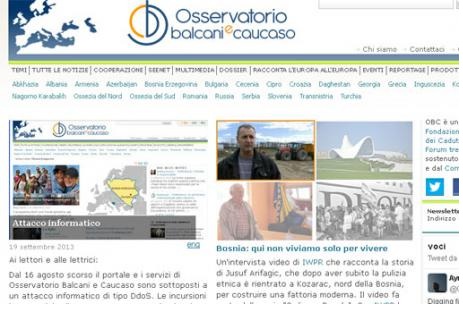 An organized group has targeted the website since August 16, demanding it remove articles revealing corruption, particularly in Azerbaijan
The website of the "Osservatorio Balcani e Caucaso (OBC)" online news provider and research centre has been the victim of cyber-attacks from abroad. The first attack, on August 16, shut down the website for more than 36 hours and was followed by two other high-level attacks, the last on September 17. "The attacks are regular and even today the website is under check", explains director Luka Zanoni. "We have activated more powerful security systems and we had to reset all the IP's which were cancelled", he proceeds.
The OBC, based in Rovereto Italy and known in Italy and Europe for its analysis of social and political changes in South-eastern Europe, Turkey and the Caucasus, has been lately attacked by an anonymous person. "We received an e-mail from a non-existent contact which cautioned us to remove four articles from our database," Zanoni states.
"A short time later, we were contacted by a fake Facebook account with the same message. We asked which articles were in question, and he listed four, all written between 2011 and 2012, about corruption in four different countries," Zanoni continues. "Three of these articles were quite generic while one contained more detailed information about corruption in the oil sector of Azerbaijan. We immediately understood that this was the article they wanted us to remove."
The OBC immediately made the demands known through press releases. "We obviously did not delete any of these articles", Zanoni explains. "After we made public the news of the threat we came under, we were contacted again by the same profile which, this time, let us know about his disappointment and his intention to continue to attack us", Zanoni said.
On September 18, the OBC filed a complaint with the postal police of Trento.
Freedom of the press is very limited in Azerbaijan and the website of the Institute for Reporters' Freedom and Safety (IRFS) in that country has been the target of cyber-attacks recently", Zanoni explains. "These people are not interested in providing a reply, which we are always willing to offer; they just want to censor," he concludes.
Tradotto da Filip Teodoreanu
Revisionato da Cristina Di Battista

I contenuti di questo sito, tranne ove espressamente indicato, sono distribuiti con Licenza
Creative Commons Attribuzione 3.0