AEJ Italian Section and Ossigeno: Disguised censorship in Italy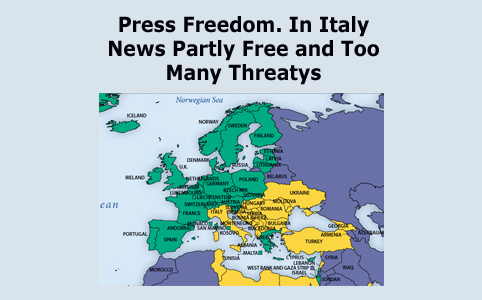 This Report has been submitted to the 51th Associaton of European Journalists (AEJ) Annual Congress held in Brussels, 22-24 November 2013
November 2013 In Europe there are many cases of intimidation and instrumental lawsuits against journalists: systematic monitoring works to unmask and defeat hidden threats
by Alberto Spampinato
Among the six founding countries of the European Union, Italy is the only nation where the press is classified as not free but "partly free" by Freedom House and Reporters Without Borders annual Reports. The last Freedom House Report puts Italy in 68th place out of 197 countries.
Since 2004 Italy is in the second row in the world ranking not only for the well known high concentration of media ownership, for the insufficient separation between media – politics – government, but also because of the very high number of journalists threatened with physical and legal harassment, some of wich forced to live with bodyguards.
his is one of the big italian problems still hidden. Nobody wish admit that are happening bad things like these. Politicians, the media and the public had began to take notice of this problem only now, some year after the observatory "Oxygen for Information" began to spread in profusion over the shocking data on intimidation. This has started since five years. This date came from a specific monitoring method that we named the "Oxygen Method" that in essence is a form of in-depth journalistic investigation conducted with the support of legal experts.
We think that this wide presence of intimidatory acts against journalists in Italy deserves a special attention, also from international institutions, also from abroad, because it reveals a new kind of censorship, insidious and undeclared, that can emerge and spread in modern democracies, acting like a disguised censorship, an unknown disease which can damage one of the fundamental human rights and can frustrate all efforts made to banish classical censorship.
It's important to know this new kind of censorship and stop it. To do this we need first to monitor it carefully, in Italy and abroad. As it is a contagious disease. we need to know if it is already present also in other developed countries, in what form and to what extent. The "Oxygen Method" can be improved and applied to do this sort of clinical examination. Europe has the duty to do this survey. We make available our know-how to everyone. We hope that italian and international institutions will support its implementation.
The problem is not only discover if the new disease really is afflicting the press, but demonstrate to a skeptical audience that this is true. To overcame the distrust and inattention we carry on the public scene the impressive effects of the disease: censorship, discriminations, intimidation, threats. We show the victims with their faces, their names, their wounds. Our method is refined, it does not make all the same brush: it classifies 29 different kinds of intimidation against media workers. In the last six years we have included in different categories the names of more than 1500 victims of intimidation and have published each of their stories.
This work is helping people to see what really is happening. This work  is overcoming entrenched beliefs and stereotypes, is bringing hidden intimidations to the public scene. It 's a lot of work, but worth it. Slowly our point of view is entering the political agenda. In 2012 an investigation commissioned by the Parliament confirmed our data and analysis and inspired recommendations to government and MPs for legislative reform to limit intimidations. There is still a long way to do, but we are sure to be on the right path.

I contenuti di questo sito, tranne ove espressamente indicato, sono distribuiti con Licenza
Creative Commons Attribuzione 3.0