Police commissioner doesn't explain a not paid ticket, but fill the report against the journalist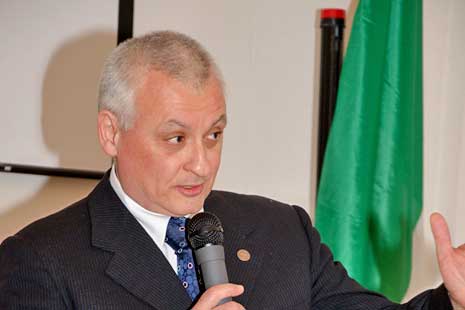 Marco Patricelli is still suffering the consequences of his article about a removed ticket. He is under investigation and has been charged
First his editorial office was searched and then he was sued. Marco Patricelli is the section editor and manager of the Pescara editorial office of Il Tempo newspaper and He is also an historian with a lot of published books. He is still having issues for writing an article about a ticket which has been removed to the police commissioner of his city, Paolo Passamonti.
Ossigeno wrote about this story last April. Il Tempo informed its readers that someone filled a report to the police because on December 8th 2011 the police commissioner car was illegally parked in the city center. The car, together with other three cars, got a ticket and was hauled away. However, the car was brought back to the police commissioner without paying any ticket.
UNDER INVESTIGATION: Patricelli had written about this issue for days providing evidences of the ticket, asking publicly the police commissioner to tell what was happened and putting investigators down to not have the removal of cars register after 20 days from the fact. Il Tempo was the only newspaper of the region to write with attention to details about this issue. The result was that the public prosecutor, Annalisa Giusti, to whom was assign the investigation, decided to search the editorial office of Il Tempo, putting Patricelli under investigation for violation to maintain secrecy of disclosure in legal hearings.
TWO-SPEED JUSTICE: The lawsuit has been brought in March and it is still on the attorney desk of Pescara, Federico De Siervo. "Any action has been performed till now", said the journalist to Ossigeno. In the mean time, on October 31st Digos – police department dealing with political security – send Patricelli and Newspaper CEO, Sarina Biraghi, the lawsuit notification for libel. The CEO was suited for not having control the situation.
Passamonti criticize four articles, written between March 31st and April 4th. The attorney's office of Rome is in charge of the investigation where the newspaper has its head office.
"I'm definitely guilty to do my job and to write the truth" said sorely disappointed Patricelli. "The story that I told is true provided by details and evidences. Suffering for intimidating actions – that is my interpretation of the facts- such as search-kidnapping and lawsuit discourage me not only as a journalist who respect law, the professional ethics and his moral code but also as a citizen".
A journalist as an employee can count on the legal protection of his newspaper office. However, we can't submit to people who abuses their power. There is a problem of reliability in our vocation: If a young journalist without legal protection would be in my place, what would happen? A young boy or girl can easily evaluate that it doesn't worth running these risks to do this job.
Tradotto da Laura Mastri

I contenuti di questo sito, tranne ove espressamente indicato, sono distribuiti con Licenza
Creative Commons Attribuzione 3.0