Catania. Assaulted and threatened in Librino while taking pictures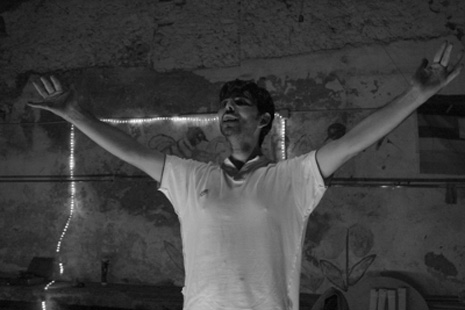 Mr Luciano Bruno, a collaborator of I Siciliani Giovani (the Young Sicilians), had a tooth broken. A calibre 9mm gun was pointed to his head, while being shouted: "we know everything about you"
At around 10:30 am on Friday, January 10th, Mr Luciano Bruno, a collaborator for the news outlet I Siciliani Giovani, was beaten and threatened with a gun to the head in the Librino district of Catania. Six men attacked him and beat him knocking out a front tooth. The event was announced by the director of the monthly paper of Catania, Mr Riccardo Orioles, with a press release and on his blog.
THE AGGRESSION – "I went to the Palace of Cement, an unfinished building, to take pictures for an investigation that me and other guys were planning", Mr Bruno, 37 years old, commented to Ossigeno.
"Suddenly I was surrounded by these people, they will have been about 35 years old, and which I had never seen before. They wanted to see the photos I had taken. They beat me up and a tooth jumped away. Then one of them pointed a gun at me in the head, a 9mm, and said: 'I know you, your name is Luciano Bruno, you write for I Siciliani Giovani, your mother's name is …' and so on. They knew everything about me, even that long ago I wrote an unsigned article", Mr Bruno says, while he also makes a living through leafleting. Mr Bruno is not registered with the Order of Journalists.
DEATH THREATS – "Then one of my attackers told me: 'this time you walk away, but next time I'll kill you'. I'm now going to report the incident to the police", he explained.
LIBRINO – Luciano is the author of plays which denounce the current situation, one of which, the monologue Librino, earned him the Mediterranean Experiences Festival 2011 award for Best Actor. Librino is his district, but he left it two years ago. Librino has 80 thousand inhabitants. "You can no longer live there. The situation has worsened. There, the State does not exist at all", he says. And Librino was originally designed to be a state-of-the-art district. But it did not develop according to plan; it was abandoned by the institutions and has become prey to the mafia. There, corruption, drug dealing and violence reign supreme.
PAST THREATS – Already in February 2013 Bruno had been threatened in the same neighbourhood. He recalls: "I was in front of the Moncada theatre when two people I knew stopped me and told me not to show myself for a while."
As Mr Bruno says, "I just try to write the truth, but at this point I wonder if it's worth risking so much: in my monologue on my neighbourhood I spelled out first and last names of those who used public money for their own interests. Feeling too sure it's maybe a mistake: and probably in this case I was wrong to go without being accompanied by someone. After this episode, I hope I never find myself alone" he confesses.
To Mr Bruno, who has been the first journalist of 2014 to be physically assaulted, and his newspaper, Ossigeno expresses the deepest solidarity, and asks for a greater attention of the institutions to the episode.

I contenuti di questo sito, tranne ove espressamente indicato, sono distribuiti con Licenza
Creative Commons Attribuzione 3.0