From being a complainant to being reported: the case of a CTV cameraman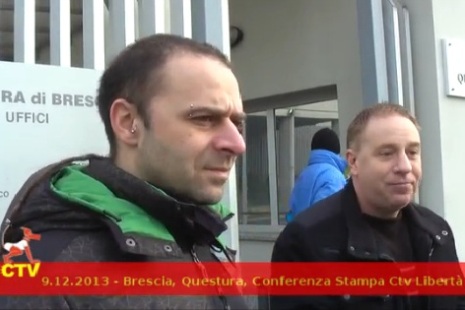 Mr. Andrea Maffeis, who has been clubbed while documenting a manifestation, later discovered that he was being investigated for resisting a public officer
"To the police we are protesters holding a video camera and not journalists and accredited operators who carry out their work of documenting with passion". The words of Mr. Andrea Maffeis, cameraman for CTV telestreet Brescia, web TV and independent service video, comment on the story that saw him as protagonist: he was first beaten with a truncheon during the manifestation approved for April 25th last in Milan, as he and other journalists were recording the various episodes of the event with their cell phones. Then, after seven months, he discovered he was under investigation for resisting a public officer.
"I was assaulted because I was filming a police officer beating up an unarmed protester", he explains to Ossigeno. "After a few moments the man detached from the group of law enforcement agents and came towards me because he realized that he had been recorded, as is clear from some videos that testify the moment. I was together with the other journalists, on the side, between the police and the protesters. If I were actually protesting – he added – I would have left my phone be (I didn't have the cameras because the batteries were dead) and would have reacted to defend the youth being beaten. I would not have been there taking shots and truncheon blows."
For the blows he received, the cameraman has received a seven-day prognosis.
Mr. Maffeis filed a lawsuit on May 15th, asking that his agressor be identified and prosecuted. "To support my complaint I have attached a copy of the ministerial license as service video that empowers our work and a DVD containing the video of the attack", Andrea adds.
"From that moment I and my lawyer have not heard anything until November 14th when I received a notice to present myself the coming morning to the court so as to receive communications that concerned me. The notice was left in the mailbox, with no personal notification, assuming that I would read it. I saw it by chance since those were days when I was moving house. But if I did not show up at 9:30 am the next day, I would have been liable to prosecution", Mr. Maffeis says.
And he adds that "in the court, two plainclothes invited me to get a defense attorney because I was under investigation for resisting a public officer in relation to the events of April 25th".
Mr. Maffeis , who says he still bears on his arm the signs of those beatings, concludes: "The crime of which I am accused of leaves me with a sour mouth because it is not justified: I did not react, no one identified me and there were no aftermaths". The police said that "any evaluation is now the competence of the judicial authority to which the facts were presented at the appropriate time".
On December 9th CTV telestreet has held a press conference(VIDEO below) in front of the police headquarters in Brescia to challenge the modus operandi of the local police. "The police hinders our work", Mr. Francesco Catalano, a CTV journalist, explained. "Our images have been used in various trials to exonerate people accused of devastation, resistance and insulting public officials. Our operators have repeatedly been threatened with lawsuits by the police while documenting uncomfortable scenes. It is a matter of freedom of the press that does not affect only CTV but all journalists" he concludes .

I contenuti di questo sito, tranne ove espressamente indicato, sono distribuiti con Licenza
Creative Commons Attribuzione 3.0