Rome. A reporter kicked out of the "Pitchforks" event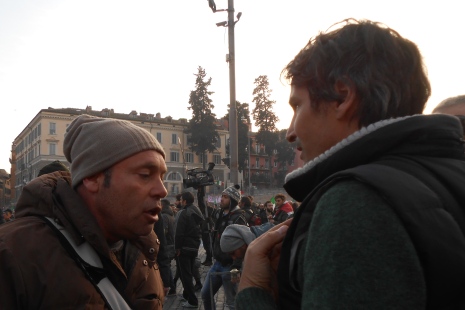 Mr. Duccio Giordano, who in 2012 had his car arsoned, was jostled and insulted by some people in the Piazza del Popolo on December 18th
"Go away! Go away you shit!" was a first order by a protester. Then another one hit him in the back from behind. Then the first got back to drove the reporter away. Mr. Duccio Giordano, a photojournalist and reporter who works with L'Espresso on December 18th, was insulted and attacked by demonstrators in Piazza del Popolo in Rome, during the protest of "Coordination of December 9th", which expresses dissatisfaction and discomfort for the current economic and social crisis in the country.
THE AGGRESSION – A protester started shouting insults and tugged the reporter, yelling "with our money you cannot stay here, go away, get out of the square, you must not work today. Then other protesters joined in, visibly annoyed by the presence of information workers ("you misinform" was the cry).
Bland attempts by some people to separate the violent group from the journalist amounted to nothing, albeit the reporter himself was trying to calm his attackers: "you must not blame me! I respect you who protest, so you should do the same with me", he said to one of them. But against the insistence of those around him, Mr. Giordano was forced to turn away.
MR. GIORDANO 'S COMMENT – "They were opposed to the footage I was shooting at that moment", the journalist said immediately. And he continued: "they are convinced that it is also the fault of us journalists, of some piloted information if the current ruling class came to power. In these contexts, the pressure is strong, and the people are angry."
Mr. Giordano, who in 2012 suffered the arson of his car and a break-in in his house, probably because of his inquisitive reporting – is, for the time being, considering not to file a complaint against his attackers.
To the journalist, who is the 91st threatened in Lazio in 2013, Ossigeno wishes to express its solidarity.

I contenuti di questo sito, tranne ove espressamente indicato, sono distribuiti con Licenza
Creative Commons Attribuzione 3.0