Threatening emails against journalists and State officials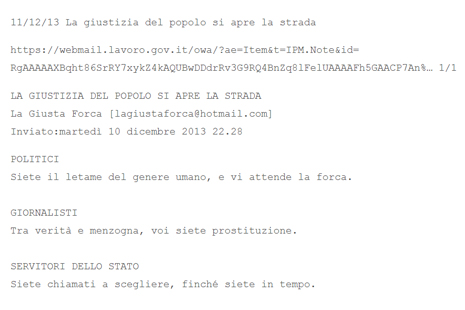 Emails signed "the Just Gallows". Amongst many, they were received by reporters of Il Sole 24 Ore, Metropolis TV and a director of the Ministry of Labour
On the 10th of December a few sentences with a threatening message signed "the Just Gallows" arrived via email to a few journalists, politicians and public officials. On December 13th, another message was circulated anonymously on the web and with the same signature. The message included the full names of some tax officials depicting them as ruthless torturers and inciting to hit them physically. Investigations are ongoing.
The e-mail sent to reporters came, among others, to Mr. Giovanni Taranto, director of Metropolis TV, and four editors of the Sole24Ore, including Mr. Nino Amadore and Mr. Franco Sarcina. The same message was sent to the head of the Ministry of Labour and Social Affairs, Mr. Alfredo Ferrante.
The text speaks of a "people's justice that paves the way" and menacingly insults some professional categories: "Politicians, you are the muck of the human race, the gallows await you. Journalists, between truth and falsehood, you are prostitution. Servants of the state, your are called to choose, and time is running out."
The sender and the purpose of the message remain unknown. It is not known if it is the act of a single person or an organized group. The timing and signature suggest some members of the Pitchforks movement may be involved, since in these days it is staging protests throughout Italy for the difficult economic conditions prevailing in the country.
Mr. Nino Amadore and Mr. Alfredo Ferrante published the message as soon as they received it: the former posting it on his Facebook profile and the latter on his blog. As Mr. Amadore told Ossigeno, "I thought it was something so vulgar and annoying … especially the reference to the servants of the state made me think of the bad years of our country and I immediately published it as it was."
And he continues: "these are tones reminiscent of castor oil. A climate of hatred and contempt is growing in the name of an unclear popular justice. In Italy we are living in a time of transition and some might think that the time has come to shake things up, to take action".
On December 13th another document was divulged on the internet, also signed "the Just Gallows", with the list of names and surnames of employees of the Agenzia delle Entrate and Equitalia.
As can be read in the text: "follwing are the names of some unworthy torturers of the fiscal machine who have been convicted by the committees of the Just Gallows. They are guilty of serious acts against individuals, families and businesses who have deliberately led to the catastrophe, and therefore deserve the gallows."
It continues with a call to action. "Everyone of us has a duty to hit them to return justice to the people. Do not act in large groups because the police would thus be facilitated in monitoring you. Separate yourselves into small groups and act fast and invisibly. " And then, in the conclusions, a list "brazenly indecent" politicians is announced.

I contenuti di questo sito, tranne ove espressamente indicato, sono distribuiti con Licenza
Creative Commons Attribuzione 3.0