UN. "Protect Journalists and do not forget those killed"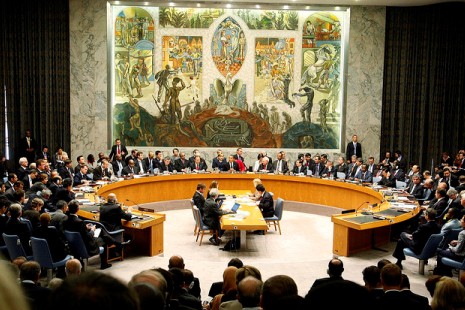 The exhortations of the Italian Permanent Representative to the UN, Mr Sebastiano Cardi, and the "Special Rapporteur" Mr Frank La Rue
The sacrifice of those Italian journalists who have been killed "must not be forgotten", and information is required "for the assertion of democracy and the defence of human rights". This is what Mr Sebastiano Cardi, Permanent Representative of Italy to the United Nations, said during an informal meeting of the Security Council on the protection of journalists, which was held in New York on December 13th.
The meeting was convened by the ambassadors of France, Mr Gerard Araud, and Guatemala, Mr Gert Rosenthal, following the murder of two French journalists in Mali (Ms Ghislaine Dupont and Mr Claude Verlon) on November 2nd of this year, and open to members of all media and the civil society. At the meeting, Mr Cardi remembered all the Italian reporters who lost their lives in the course of armed conflicts since 1987: "unfortunately, the job of the journalist seems to have become more and more dangerous, especially for women", the permanent representative said. "As such", he added, "we need to strengthen protections [by ensuring] that media workers are able to freely access information sources and to share them without fear of consequences."
LA RUE: PUT AN END TO IMPUNITY – the UN Special Rapporteur on freedom of expression, Mr Frank La Rue, who has recently visited Italy, was also present and pointed out that a free press is a fundamental requirement for any democracy and that impunity is a factor that determines an increase in the acts of violence against journalists. As he explained: "impunity is the main cause for the recurrence of incidents of attacks on journalists around the world. Most cases of violence and threats against journalists are not investigated and those responsible are not identified, prosecuted and convicted."
And he added that it is fundamental to "pay a systematic attention to all attacks against the press", since threats, intimidations and violence continue undeterred both in war zones and in countries where there are no conflicts. As he concludes, "only a few cases of extreme violence grab some attention, while the majority remains totally invisible".
GLOBAL DATA – "Every week a journalist is killed, and in nine out of ten cases the perpetrators go unpunished", said Ms Irina Bokova, Director General of UNESCO. And, she added, in eight cases out of ten, journalists lose their lives in peacetime by investigating cases of crime and corruption.
SYRIA – The situation in the country is particularly alarming: as the meeting of the Security Council highlighted, there are at least thirty reporters, photographers and cameramen that have been captured by Syrian rebels. In recent days, thirteen newspapers, including the Guardian, the New York Times, the Washington Post and the Wall Street Journal, have sent an open letter to the rebels explaining that the kidnappings threaten the possibility of covering the conflict.

I contenuti di questo sito, tranne ove espressamente indicato, sono distribuiti con Licenza
Creative Commons Attribuzione 3.0