Calabria. The cars of a journalist and his wife were burned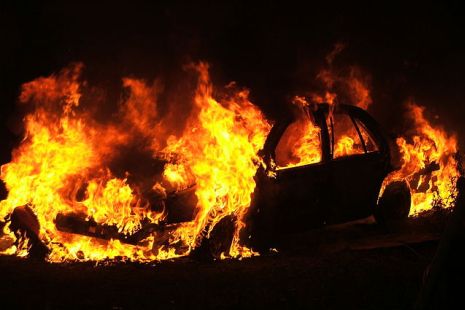 They were parked under the house. A few days ago a car belonging to a colleague of the same newspaper was also burned. "I guess it's because of my job", Mr Pino Lombardo said
The car of the retired professor and collaborator of the Giornale del Sud, Mr Pino Lombardo and that of his wife – Ms Annamaria Bova – were completely burned downed on the evening of February 8th, in Locri (Reggio Calabria). The cars – an Alfa 156 and a Fiat 600 – were parked in the building's courtyard. Fire fighters and Police, who are investigating the incident, ascertained that the cars had in fact been covered with flammable liquid.
Who sparked the fire had to climb over the building's wall, which was a meter and a half high. A few days ago, always in Calabria and always along the Ionian coast, in Montepaone (Catanzaro), four cars were burned: one was the one routinely used by the journalist Ms Sabrina Amoroso, who also is a local correspondent for the Giornale del Sud. The reporter told Ossigeno that there was no evidence to suggest that the act was connected to her work as a journalist.
WHO IS HE – Mr Pino Lombardo, who covers political news from Locri and the surrounding area, instead believes that it may be an act of intimidation following some of his recent articles. "Amongst all the things that I had to deal with, there might have been something that bothered someone. Every now and then I happened to receive strong observations following some article I'd publish, but never real threats", he told Ossigeno. And he continued: "lately, I have been involved, in particular, with the landfill of Casignana – a township whose council was dissolved some time ago because of mafia infiltrations – which had been closed because it had been filled up. Someone, however, would like to reopen it. But local mayors, however, have already said that they oppose any expansion of the site. A few days ago, Mr Riccardo Iacona of Presadiretta came to shoot a piece."
As Mr Lombardo continues recounting: "I also wrote very recently about health issues: I have described the cases resource-wasting that affect Locri and the surrounding area occupied by other 42 other municipalities. I talked about those departments where there is a lack of staff, and those departments where it abounds."
PRECEDENTS – As far back in 1999, Mr Lombardo recalls how someone had tried to set fire to his car parked along the road. A passer-by, however, smelling a strong odour, called the Carabinieri, who discovered traces of fuses, matches and gasoline.
"Whoever commits such acts, reveals, in my opinion, a profound cowardice and a dramatic lack of arguments in support of alleged wrongs", the chronicler says.
SOLIDARITY – A "full and unwavering solidarity with Mr Pino Lombardo and the Giornale del Sud" was expressed in a statement by the Deputy Secretary of the National Federation of the Press and Secretary of the Union of Journalists of Calabria Mr Carlo Parisi. As he declared: "it is certainly not through such cowardly acts of violence like this that it will be possible to gag those who are committed to ensure that the public is informed, in the name of the right to criticize and of the freedom of the press."
As the member of the Board of the Order of Journalists of Calabria, Mr Filippo Diano, wrote in a note: "the cowardly attack against the colleague Mr Pine Lombardo", denotes, "once again, the climate of violence in which the good people of that city are forced to live in. The only fault that can be ascribed to Mr Pino Lombardo is to have always told the truth, a decision which cannot be appreciated by those who are accustomed to dominate through the barbarity of intimidation".
Solidarity was also expressed by Msgr. Cornelius Femia, diocesan administrator of Locri, and by the city's mayor, Mr Giovanni Calabrese. "This gesture, such as those recently perpetrated against directors and entrepreneurs of Locri, humiliate and mortify a township that wants to recover by leaving behind many sad moments that unfortunately have marred in a negative way the glorious history of a city and its honest people."
Ossigeno, too, expresses its proximity to the reporter, pointing out that during 2014 there have already been at least 73 threatened or intimidated journalists in our country, according to data collected by the Observatory." MF

I contenuti di questo sito, tranne ove espressamente indicato, sono distribuiti con Licenza
Creative Commons Attribuzione 3.0