Ossigeno: RWB should rectify improvement in Italy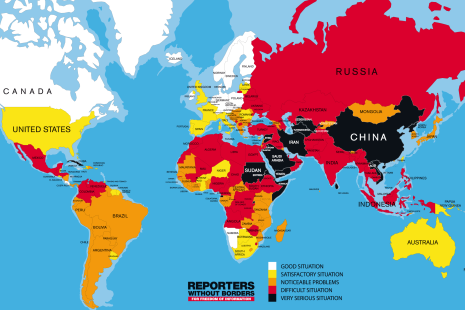 Statement of the Editor of Ossigeno per l'Informazione on the reform of the law on defamation under discussion
I hope that Reporters Without Borders will rectify the judgment on Italy, which sees for 2013 an improvement in freedom of the press that is wrongly motivated by erroneous data published on the reform of defamation under discussion.
The proposed law on defamation presented to Parliament in 2013 does not provide for the decriminalization of the offense announced in Paris by RWB and long called for by the whole of Europe. According to the opinion of the various European institutions, the new law proposes the replacement of imprisonment with disproportionate economic sanctions that are no less intimidating. Moreover, against the scourge of spurious lawsuits, which when added to the plethora of threats in Italy, it simply feeds various forms of self-censorship and disguised censorship, the proposal offers only a laughable barrier.
Pretending to improve the legislation in a substantial way when this is not true harms all those who are fighting against inaction and attempt to draw attention on these forgotten problems. The severity of the Italian case is demonstrated by objective data collected by Ossigeno, and which cannot be minimized. There is a need to know how things truly are, and push Italy to solve these problems. It is necessary to remove any excuse the bad example of Italy so as to eliminate the excuse from all those who shy away from adopting European standards on freedom of the press.
ASP

I contenuti di questo sito, tranne ove espressamente indicato, sono distribuiti con Licenza
Creative Commons Attribuzione 3.0