Bergamo: threats and censorship for book on Yara murder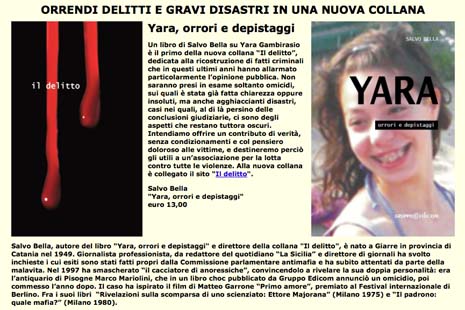 An email to the publisher announces the will to prevent in every way the publication of the book-inquiry by the journalist Mr Salvo Bella
"I'm willing to do anything to don't let this fucking book out" was written in an email received on the evening of February 23rd by Gruppo Edicom, publisher of the book Yara, Orrori e Depistaggi (Yara, horrors and false leads), which delved into the murder of Yara Gambirasio, the girl from Brembate (in the province of Bergamo) who disappeared on the evening of November 26th, 2010, and whose body was found in a field four months later.
The email was signed and accompanied by the telephone number of the author, who identified himself as the entrepreneur from Padua, who in December 2013 had made an offer of 20'000 euros in cash to anyone who, through the daily Il Giornale di Bergamo, provided useful information to solve the case.
Mr Salvo Bella, sixty-four years old crime journalist and author of the book, has then called the number to verify the sender's identity and understand the motivations of the initiative. The person at the other end of the phone line confirmed to be the 44 year old entrepreneur, owner of a paper-recycling company and author of the message, claiming the right to block the release of the book.
But when the reporter asked what kind of actions would he be willing to take in order to block the publication, the entrepreneur hang up saying he did not feel good. After another email was sent with the same questions, no reply has yet been received.
After checking with the Giornale di Bergamo that the two people were in fact the same person, Mr Salvo Bella filed a complaint because of the threat.
To Ossigeno the author explained that the book is already on sale in Italy from February 4th, but of the thirty bookshops in Bergamo, only one agreed to put it on the shelf, while all the others have refused "because they are afraid."
According to the author, some bookshops prefer not to sell the book "so as not to create trouble with powerful people." He explains that the tome does not affect in any way the image of the dead girl, or the family members, but rather it focuses on some major institutional characters, accused of having contributed in various ways to side-track the investigation, in order to divert from the truth of a murder that would lead directly to important people of the city.
The publisher is now considering a free distribution of the book throughout the city.

I contenuti di questo sito, tranne ove espressamente indicato, sono distribuiti con Licenza
Creative Commons Attribuzione 3.0