Florence. Reporter assaulted and photographed inside Train Station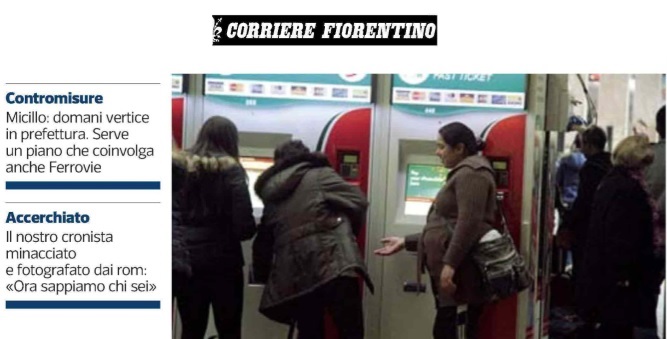 A reporter cornered and shot at with smartphones by a group of Roma women at the station of Santa Maria Novella: "So that we may recognize you"
"Now we know who you are. Now we can recognize you", they shouted as they tried to wrest the smartphone from the hands of the journalist: Mr Antonio Passanese from the Corriere Fiorentino, the local Tuscany edition of the Corriere della Sera, has been threatened and assaulted by a group of young Roma women inside the train station of Santa Maria Novella in Florence, on February 18th.
The reporter was trying to photograph the young women while they were besieging and begging tourists and commuters and passengers, stopping them at the ticket counters and on the docks while waiting for the train. The aggression has been recounted in an article appeared in the Corriere Fiorentino on February 19th by the title "Stazione, solito assedio. Dopo il blitz" (Train, the usual siege. After the raid) and signed by Mr Passanese and Mrs Antonella Mollica.
THE STORY – The journalist explains that thirty women surrounded him, around 2 o'clock in the afternoon, on Tuesday, February 18th. While "they were screaming", the article said, they tugged him to try and snatch the smartphone from him. "They threaten to go to call the men (scattered in front of the train station)", while they take pictures with two of their smartphones.
A security guard of Trenitalia intervened in support of the reporter, who then warned the railway police thus scaring away the women. Only one of them has been identified.
But the reporter minimizes the incident: "It's part of our job – Mr Passanese says – and of our routine when you try to tell the city under all its aspects. There are colleagues who really risk their lives".

I contenuti di questo sito, tranne ove espressamente indicato, sono distribuiti con Licenza
Creative Commons Attribuzione 3.0