Sicily: the press held away from Ispica City Council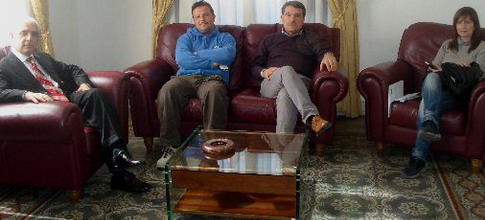 The CNA invited the press to the meeting with the mayor, who, after taking a few pictures, has asked the journalist to get out. The national confederation of artisans said "to be sorry". Silence from the City Hall
The discussion was over the expansion of the cemetery lots. The local Confederation of Artisans (CNA) had invited the press to attend the meeting with the mayor of Ispica, Mr Piero Rustico, who, after leaving the information operators time for some pictures, said: "let the journalists settle outside".
At that time there were only two reporters present, Ms Eva Brugaletta for La Gazzetta del Sud and the Corriere di Ragusa, and Mr Giuseppe Floriddia, from La Sicilia, and both registered to the order. Ms Brugaletta, who reported the incident in the Corriere di Ragusa, told Ossigeno that the mayor had apparently addressed the representatives of the CNA telling them to prefer a closed-door meeting followed by a joint statement.
Ms Brugaletta, when going away, expressed her disappointment at the mayor, who instead answered: "the CNA can not invite at someone else's home". She also recounted that the secretary of the organization of craftsmen had attempted a timid defence of the journalists, but to no avail. While the President, Mr Tonino Cafisi, "remained silent and still in its place."
At the meeting with the mayor and the local representatives of the CNA, also was the Deputy Mayor and Councillor for Culture attended, who moreover did not intervene in any way to prevent the expulsion.
THE REACTIONS – At a second instance a condemnation of the incident came from the provincial secretary of the CNA of Ragusa, Mr Giovanni Brancati, who in a statement said: "We are sorry, very sorry, that the Mayor of Ispica did not want the presence of the press". Mr Brancati then expressed solidarity with the journalists. The next day also the national secretary of the CNA Mr Carmelo Caccamo phoned the journalists expressing regret for the incident. The administrators of the City Council of Ispica, however, have not yet taken any position.
LDP

I contenuti di questo sito, tranne ove espressamente indicato, sono distribuiti con Licenza
Creative Commons Attribuzione 3.0