What is going in Italy – Safety Net Ossigeno – 7th- 15th February 2014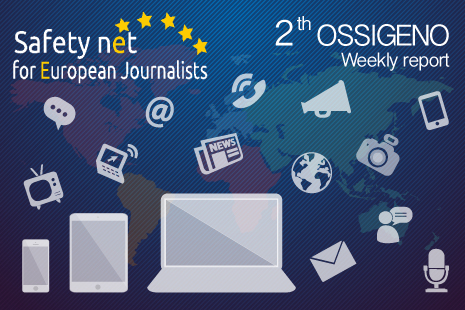 The second of 48 weekly reports produced with the support of the European Union and distributed in eleven countries to promote a common understanding
Ossigeno Safety Net – Weekly Report 7th – 13th February 2014 – Two intimidations per day since January 1st, 2014
"Safety Net Ossigeno" is a weekly report produced by Ossigeno per l'Informazione for 2014 in the context of the European project "Safety Net for European Journalists. A transnational network support for media freedom in Italy and Southeast Europe".
Threats, arson attacks, intimidation complaints, slurs and insults by public administrators. These are the cases of the week. The most striking episode is the arson that in Locri (near Reggio Calabria) has destroyed the car of the correspondent of the Giornale del Sud, Mr Pino Lombardo, and that of his wife; the lawsuit announced by the writer Ms Michela Murgia, presidential candidate for the region of Sardinia, against the newspaper L'Unità and the journalist Mr Giacomo Mameli for an article that talks about funding schemes for her electoral campaign; the accusation of libel against the journalist Ms Paola Bacchiddu for a 2011 article published on Linkiesta that hypothesized irregularities in the allocation of tenders for the construction of public housing in Milan; new threats against the online newspaper Basilicata24.it; lawsuit for libel filed by Ms Rosa Pace, widow of the boss Mr Mariano Agate sentenced to life imprisonment for the Capaci massacre, against the Sicilian journalist Mr Rino Giacalone; the lawsuit for libel filed by the magistrate Mr Nino Di Matteo against the journalists Mr Enrico Deaglio, Mr Filippo Facci, Mr Giuliano Ferrara and the art critic Mr Vittorio Sgarbi, relative to the threats by the mafia boss Mr Totò Riina.
Moreover, Ossigeno highlights two speeches from the conference on "Defamation, reputation and freedom of the press", which took place in Rome on February 6th, 2014. The President of the Senate, Mr Pietro Grasso, urged to think more carefully about how to punish frivolous complaints. The Bulgarian legal expert Mr Boyko Boev of Article 19 has shown the limits to the the debate on defamation in Italy by noting the almost exclusive attention devoted to the sanction provided against journalists, while at the same time underestimating the limitations imposed on freedom of expression imposed on all citizens.
Finally, Ossigeno has asked Reporters Without Borders to rectify its positive view on Italy expressed in its new annual report on press freedom, pointing out that the evaluation was based on the assertion not reflected by the facts that the reform being discussed in our country provides for the decriminalization of the offense for defamation.
Calabria. The cars of a journalist and his wife were burned
They were parked under the house. A few days ago a car belonging to a colleague of the same newspaper was also burned. "I guess it's because of my job", Mr Pino Lombardo said
The car of the retired professor and collaborator of the Giornale del Sud, Mr Pino Lombardo and that of his wife – Ms Annamaria Bova – were completely burned downed on the evening of February 8th, in Locri (Reggio Calabria). Read more
Defamation: ms Michela Murgia announces lawsuit against the daily l'Unità
In an article, allegations were made regarding the funding by ship-owners in support for her candidacy to President of the Region of Sardinia
Ms Michela Murgia, a candidate to the presidency of the Region of Sardinia in the forthcoming elections of February 16th, has formally instructed her lawyers to file a complaint for defamation against the daily L'Unità and the journalist Mr Giacomo Mameli. Read more
Defamation. Sued because of an article on public tenders in Milan
Ms Paola Bacchiddu wrote on alleged irregularities in the allocation of public tenders for the construction of public housing. The first hearing wil be on March 24th
The journalist Ms Paola Bacchiddu has been sued for libel for an article written in 2011, and published in the Milanese online magazine Linkiesta, concerning public housing managed by Aler, a Lombard company that deals in public constructions. Read more
Basilicata24.it: new threats with crosses in front of the newsroom
On February 3rd another act of intimidation against the Lucan news outlet
Yet other threats against the online newspaper Basilicata24.it: the streak of intimidation episodes began on November 2nd continues. Read more
Defamation. New lawsuit against the journalist Rino Giacalone
The Sicilian reporter has been cited by the widow of Mr Mariano Agate (convicted for the massacre of the Capaci), accusing him of insulting the memory of her husband
Mr Rino Giacalone, a Sicilian journalist, is being sued for libel by Ms Rosa Pace, widow of Mr Mariano Agate, who was sentenced to life imprisonment for the Capaci massacre and who died in 2013. Read more
Complaints. Di Matteo against unwelcome journalists
The magistrate cites Mr Enrico Deaglio, Mr Filippo Facci, Mr Giuliano Ferrara, the critic Mr Vittorio Sgarbi and the editors of the newsoutlets for which they wrote
The prosecutor of Palermo, Mr Nino Di Matteo, has sued for libel three journalists (Mr Enrico Deaglio, Mr Filippo Facci, Mr Giuliano Ferrara) and the critic Mr Vittorio Sgarbi, for articles relating to the threats received by the magistrate by Mr Totò Riina (reknowned Mafia boss currently under conviction). Read more
President Grasso: reassess penalties for intimidation complaints
The speech of the President of the Senate during a public debate at Palazzo Giustiniani on "Defamation, reputation and freedom of the press" Read more
Defamation. Boev, reform is not just about journalists
According to the expert from Article 19, Italy should worry because it now serves as an excuse for countries that maintain backward and authoritarian laws Read more
Defamation. RWB promotes Italy for a law that's not there
In the report by Reporters Without Borders (RWB) Italy gains nine positions in one year. The objections by Ossigeno and the senator Mr Casson Read more
Ossigeno: RWB should rectify improvement in Italy
Statement of the Editor of Ossigeno per l'Informazione on the reform of the law on defamation under discussion Read more
Formia. Mayor insults journalists at press conference
Mr Sandro Bartolomeo railed against the chroniclers of his city, accusing them of enacting a "filthy operation" of slander against him, resorting to "violent information" Read more
RR/MF/ASP

I contenuti di questo sito, tranne ove espressamente indicato, sono distribuiti con Licenza
Creative Commons Attribuzione 3.0
Questa pubblicazione è stata prodotta con il contributo dell'Unione Europea. La responsabilità sui contenuti di questa pubblicazione è di Ossigeno per l'informazione e non riflette in alcun modo l'opinione dell'Unione Europea. Vai alla pagina del progetto Safety Net