Costa Concordia. Phone taps of managers reveal threats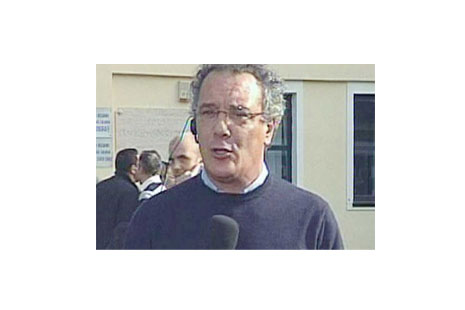 During the trial on the 2012 shipwreck on the Island of Giglio, a dialogue between two managers of the company was heard, in which there were explicit references to Mr Francesco Vitale (TG2)
"We need to get those guys out of the way" is the phrase which refers to journalists and, in particular, to the chronicler of the newsreel TG2 Mr Francesco Vitale. This is an excerpt from the transcript of an environmental interception recorded during a conversation between two executives of the shipping company Costa Crociere.
The dialogue took place during a car journey of two executives in the months following the sinking of the Costa Concordia off the Island of Giglio on January 13th, 2012. Transcribed by the experts of the court in Grosseto, it was announced on April 14th during the hearing on the accident (the only defendant is the former commander of the ship Mr Francesco Schettino). To pronounce the threatening words was Mr Roberto Ferrarini, head of the emergency unit of Costa Crociere, in service on the night of the shipwreck and present in court as a witness.
In the conversation, quoted in court by the plaintiff lawyer Ms Alessandra Guarini, and also transmitted by the TG2, there is an explicit reference to the services performed by Mr Vitale, who has been continuously engaged on the events relating to the Costa Concordia shipwreck and the court trial of Grosseto.
"I knew nothing of this interception – says Mr Vitale, Special Envoy of the TG2 for twenty-two years – I was shocked."
"To one of my direct questions – the lawyer Guarini, who defends a castaway of the Costa Concordia, says – Ferrarini explained that passage by saying that 'at the time he was very annoyed by journalists'. We had the feeling, several times, that there had been undue pressures on journalists who were not too aligned to the vision of the Costa Concordia company. We even thought that it was because of this that we would not be given space as lawyers for the plaintiffs. The TG2 instead always gave space to all the rumours: by the accused, the defence, and the plaintiffs."
"I have for a long time dealt with the Mafia for L'Ora of Palermo and the TG2 – Mr Vitale says –but while in those situations you expect some threat, I would never have imagined it in such a situation. I didn't think they were going to be so arrogant." The journalist also complained about a lack of solidarity attitude towards him: "The press agency Ansa, and I told this to my colleague in Grosseto – he says – has not written a word on this story, or maybe it drowned in a take displaying scarce sensitivity. Only in the evening of April 14th was the TG2 newsroom release been put online."
The newsroom of the news service of the second network of the public broadcaster RAI has indeed expressed "complete solidarity" with the colleague "for the long work he has taken over this matter, and stresses the role of the TG2, which achieves timely information, which is also sometimes uncomfortable, but just like a news service of the public service has the duty to do."
"The Costa Crociere has some exposed nerve – Mr Vitale concludes – because although this trial is showing that the main person responsible is indeed the former commander Schettino, there were nonetheless many things on the ship that were not properly functioning, beginning by the emergency generator."
GA

I contenuti di questo sito, tranne ove espressamente indicato, sono distribuiti con Licenza
Creative Commons Attribuzione 3.0