Journalists. Muižnieks, I will represent intimidation in Italy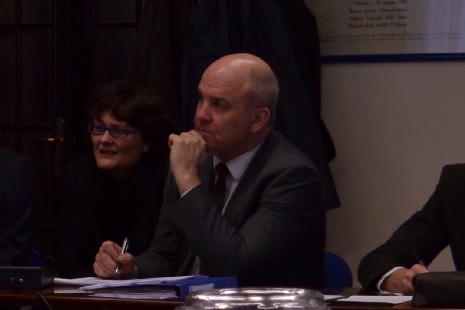 The Commissioner for Human Rights of the Council of Europe met in Rome with representatives of Order of Journalists, FNSI, UsigRai and Ossigeno per l'Informazione
"If I understand correctly the main problems of journalists regarding the restrictions of the freedom of information in Italy are two: the frivolous lawsuits and quarrels, and the attitude that can be defined predatory, of many publishers", the High Commissioner for Human Rights of the Council of Europe, Mr Nils Muižnieks, said while summarizing the picture of the situation described by Mr Alberto Spampinato, Director of Ossigeno per l'Informazione, by Mr Enzo Iacopino, president of the Order of Journalists, Mr Giovanni Rossi, President of the FNSI, and Mr Vittorio Di Trapani, president of UsigRai, during a meeting in Rome at the headquarters of the FNSI.
"His is a good summary", the interlocutors confirmed. "There also are – Mr Spampinato added – thousands of real threats and intimidations carried out with the use of physical force. They represent the more dramatic side of the problem".
"We believe in the promotion of the Ossigeno Observatory to monitor threats against journalists – Mr Giovanni Rossi said – precisely because the situation has reached alarming levels in part because of organized crime, backwards legislation and insecurity of the journalistic work."
Mr Iacopino has spoken of the many journalists that are paid less than five euros per article by publishers who benefit from government grants, and of the difficulties that have so far prevented the application of the law of 2012 on fair compensation. Mr Vittorio Di Trapani, instead, expressed the problems associated with the governance of the RAI (the public broadcasting service), of which control is in hands of the government and of the political parties.
"You can count me as one of your allies in dealing with these problems, and to present them to the Italian authorities, and also to bring some cases to the European Court for Human Rights", Mr Muižnieks said.
"You could already begin to help us during this visit to Rome – Mr Di Trapani said – by demanding the immediate implementation of the recommendation of the Council of Ministers of the Council of Europe of February 2012 that lists the essential and urgent reforms to be implemented in each country relative to the governance of the media who perform a public service."
"You may certainly consider us allies", Mr Iacopino added. "We rely on your help even for finally bringing these serious problems on the Italian political and media scene, from which they are still absent" Mr Spampinato concluded.
ASP

I contenuti di questo sito, tranne ove espressamente indicato, sono distribuiti con Licenza
Creative Commons Attribuzione 3.0