May 3rd. Stop the massacre of the "Peace Correspondents"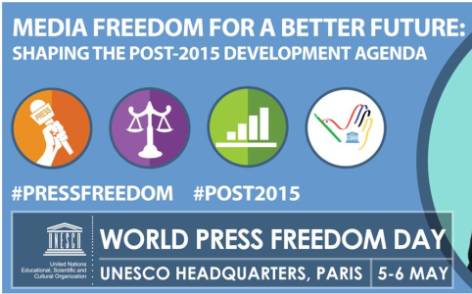 There have been 1054 journalists killed around the world: two-thirds of which are local correspondents. How to remember them during the World Press Freedom Day
More than one thousand journalists have been killed because of their work since 1992: exactly 1054, according to Reporters Without Borders. A third of the total (including fifteen Italians) were working in war zones, while the other two-thirds (including eleven Italians) were local journalists instead. These were reporters who were following the controversial issues in their own countries: scandals, cases of corruption, and the questionable behaviours of public figures. To these stolen lives is dedicated the annual World Press Freedom Day, which falls on May 3rd this year, and celebrated in Cagliari following the initiative of the National Union of Italian Chroniclers.
As the UNESCO recommends, this anniversary is to make people understand that journalists are taking great risks, and not only in war zones. This essential fact escapes common perception albeit it is confirmed by the most recent RWB statistics relating to 71 deaths in 2013. The recurrent use of violence to restrict the freedom of the press is not a set of isolated incidents. It is, indeed, too frequent. The violence comes through intimidations, threats and abuses of the law. It is the viable censorship method in democratic systems. Nobody talks about it, but the violent and disguised censorship is practiced in Italy too, and not only against Mafia chroniclers, as proven by the observatory Ossigeno per l'Informazione, which has noted down the names of more than 1800 journalists affected by intimidation between 2006 and 2013, reporting a 50% increase in the number of threats in early 2014. What is needed is a vigorous enforcement action and a change of course in protective measures, as requested by the OECD, and by Nils Muiznieks, Commissioner for Human Rights of the Council of Europe. In Italy there would be the necessity of legislative reforms (in particular in the field of defamation and professional secrecy): reforms that have been postponed sine die amid the general indifference.
Italian authorities give little importance to such things. The mainstream media continue to offer old stereotypes and a cosmetic piety towards the "poor journalists" killed in wars, without saying that in our peaceful country a dozen journalists live under police protection, and that for years at least a journalist a day suffers from threats, intimidations, retaliation, damages, discrimination, severe abuse from bullies that prevent the collection and dissemination of information of public interest. We must all be grateful to the war correspondents, those brave journalists who travel to crisis-stricken areas and tell us what is happening where there is fighting, where there genocides are being perpetrated, deportations, and the persecution of defenceless people. But to honour the memory of the war correspondents is not enough.
It is an equally duty to speak of the many "peace correspondents" who suffer violence and have neither visibility nor solidarity. Silence is heavy. It prevents the understanding of how dangerous it is to do good journalism in Italy; the knowing that Italy is the Western country with most journalists killed and threatened; the European country in which archaic laws allow an intimidating use of libel suits. These things will end if we let them be known and to discuss them openly.
ASP

I contenuti di questo sito, tranne ove espressamente indicato, sono distribuiti con Licenza
Creative Commons Attribuzione 3.0