Treviso, protesters insult crew of Servizio Pubblico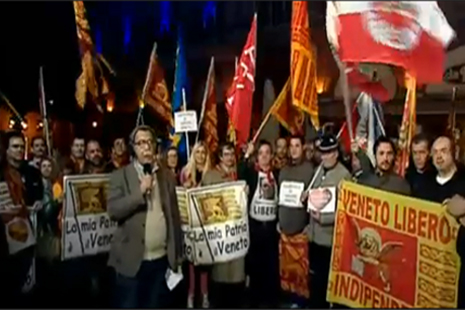 "Nigger", "dirty southerners", "parasites", "shame on you". These were words shouted by demonstrators for the independence of on April 3rd against the journalists of the TV program conducted by Mr Michele Santoro
"Nigger", "dirty southerner", "go back from where you came from". These were some of the insults shouted by the Venetian separatists against Ms Viviana Morreale, a Sicilian journalist for Servizio Pubblico, during the off-air broadcast from the central square of Treviso, on April 3rd.
The crew of Mr Sandro Ruotolo was in the Venetian city to gather the views of the protesters after the arrest of 24 Venetians separatists, who have been accused by the prosecutor of Brescia of association for terrorist purposes, for subversion of democracy and for the manufacture and possession of war weapons.
"The protesters, many of whom were visibly drunk – Ms Morreale tells Ossigeno – sought our attention by speaking in the venetian dialect, and I went over to ask them to speak in Italian, because we could not understand. At that point they began bombarding me with insults, calling me 'nigger' and 'dirty southerner, go back to where you came from'. We knew that we were in a difficult square, but for me it was a quite unpleasant situation."
Together with the journalist, the whole crew of Servizio Pubblico was insulted by the separatists: "The crowd was agitated especially at the beginning, but also during the rest of the link, during the off-air moments – Ms Morreale continues – they kept shouting 'dirty southerners', not only against me but also to Sandro Ruotolo (a Neapolitan) and other operators who are from Rome."
During the live feed, moreover, a different insult shouted to the crew could be heard quite well: "parasites", screamed along with "shame on you" when Mr Ruotolo spoke about the investigation of the Prosecutor of Brescia who is accusing Mr Lucio Chiavegato – leader of the movement of the Pitchforks in the Northeast – to have funded the construction of an armoured car, with which the separatists wanted to carry out some action in the Piazza San Marco in Venice (the cries of the crowd can be heard from the minute 1:04:40 in the video of the Servizio Pubblico episode of Thursday, April 3rd).
"When they called me a 'nigger' – Ms Morreale says – I replied that for me that was not an offense. It is not the first time I have been insulted because of my roots". Earlier this year, always in the Veneto region, the journalist was working with colleagues of the crew on a report on entrepreneurs under duress: some of them told her "you're a dirty southerner".
"Since we often find ourselves in front of very angry people, who see in the journalist a political interlocutor and do not understand that we do not have the task of solving problems directly but rather that of describing them, we must be able to remain calm and use humour. With regard to the demonstrators for the independence of Veneto, moreover, – Ms Morreale continued – they may not fully realize what they say: in the square in Treviso I have also heard, by those who have insulted me, that Sicilian women are the most beautiful in the world."
DF

I contenuti di questo sito, tranne ove espressamente indicato, sono distribuiti con Licenza
Creative Commons Attribuzione 3.0