Bari. Reporter attacked by supporters of mayor candidate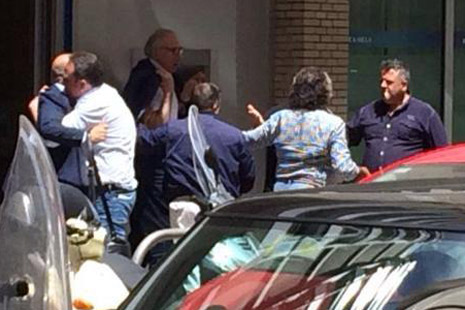 Mr Ninni Perchiazzi of the Gazzetta del Mezzogiorno was jostled and insulted. He defended a fellow journalist being abused. The filming of the scene was prevented
The journalist of the Gazzetta del Mezzogiorno Mr Ninni Perchiazzi was surrounded, insulted and jostled. A cameraman for the regional TG3 Puglia was prevented from recording the scene. It happened on Wednesday, May 28th, in Bari, outside the headquarters of the Election Committee for Domenico Di Paola, a candidate for mayor of the centre-right, after a press conference where Di Paola had accused the press of favouring his opponent. Subsequently, the mayoral candidate has apologized. Assostampa and OdG protested.
It was the brother of Di Paola, Mr Paolo Lepore, a well-known musician in the city, to attack the reporter. During the conference, the mayor candidate, as referred by the reporters present, showed signs of nervousness, criticizing articles and TV debates who he said were "complacent" with his opponent. He generically accused journalists of being "incompetent, unprofessional and partisan." When the conference moved to the questions stage, the brother of Di Paola abruptly asked Ms Adriana Logroscino, journalist for the Corriere del Mezzogiorno, to stand up to speak. Some colleagues, including Ninni Perchiazzi, who told Mr Lepore to have been "rude", criticized the request.
After the press conference, Lepore reached Perchiazzi at the room's exit, insulting and accusing him of being a "fourth-rate journalist". The reporter responded. And a squabble ensued. The two jostled and were separated while announcing an exchange of lawsuits. Some supporters of Di Paola prevented an operator of the TG3 to film what was happening. Subsequently, the mayoral candidate apologized for the behaviour of his supporters.
The Press Association of Puglia has described the incident as "unacceptable", denouncing "the fashion amongst Bari politicians from all parties to convene press conferences, taking with them more or less noisy claques", and urged the journalists to avoid "press conferences, called by whomsoever, which take place in the presence of politicians' supporters."
Solidarity to the reporters was expressed by the Order of Journalists of Puglia. "Freedom of the press – the president Mr Valentino Losito said – exists only if the media have the power, the ability and the opportunity to object to power, playing a role of opposition and contrast. If the print is compliant, it will quickly end up counting for nothing, losing all its power. Freedom of the press – Losito continued – means above all freedom to criticize the institutional powers and to place questions in complete independence and at the service of the citizen voters."
DF

I contenuti di questo sito, tranne ove espressamente indicato, sono distribuiti con Licenza
Creative Commons Attribuzione 3.0