The forbidden book.€10 million to continue sell it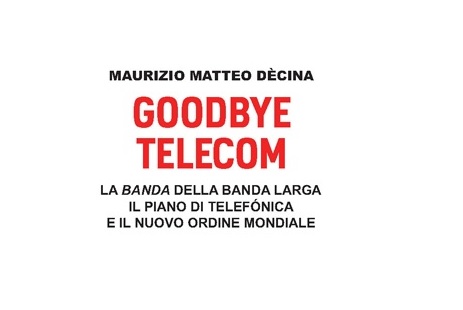 Good Bye Telecom criticized the management of Tronchetti Provera,who has convinced the author and the publisher to withdraw the book so as to avoid a very exorbitant compensation claim
To briefly reconstruct the story of the book Good Bye Telecom, written by Maurizio MatteoDècina, and published by Castelvecchi-Lit, and now lent to friends by the few lucky owners of the already sold copies, may be instructive: published in November 2013, and on sale for five months, on May 20th, 2014 the book was withdrawn from bookshops on the grounds that, otherwise, author and publisher would have had to face a lawsuit for defamation and the request of €10 million in damage compensation, which they could not sustain.
To determine the outcome of the event was the formal notice by the President of the Pirelli Group, Marco Tronchetti Provera, who in January 2014, considering himself vilified by the reconstruction of his role in the events of the telephone company, notified the author in terms of the law of the injunction to withdraw the book from the market if he wanted to avoid a lawsuit for damages of that amount.
After four months the author and the publisher capitulated. The withdrawal from the market has been announced by a press release. The publisher has not entered into the matter and preferred not to comment in response to the request of Ossigeno to motivate the choice.
Instead the author, Mr Maurizio MatteoDècina, has issued a statement toOssigenothat reveals his bitterness. "Tronchetti Provera – he said – questions my reconstruction of his management at Telecom. He considers it detrimental to his reputation. Since facing such expensive an lawsuit would have been too challenging, we have decided to withdraw the book. The books should be discussed in other places other than the courts, but I made this choice so as not to be the subject of a media case, unwanted or caused by me."
The former CEO of Telecom has decided to start a legal action on January 24th, when he made had the author notified with the injunction, stating that the book was defamatory.
Three days later, the specialized TV show by Mr RiccardoIaconaPresaDiretta (broadcast on RaiTre) devoted an episode to the Telecom case. Dècina had released an interview, but asked the authors of the show not to broadcast it because of the citation received.
Mr Riccardo Iacona confirms the incident: "We had the interview, but we have complied with the request of the person concerned. But in that episode we have addressed and treated on live TV, in the presence of the same Tronchetti Provera, all aspects of the case, including those raised by the book as well as others." What do you think of the request to withdraw the book from the market? "I think – Iacona replied–that these are forms of intimidation. The author would have been able to defend his case in court, but these are personal choices."
See also more on the author and the book and the comments by Ossigeno.
GM

I contenuti di questo sito, tranne ove espressamente indicato, sono distribuiti con Licenza
Creative Commons Attribuzione 3.0