Threats against Casarrubea: "Shut up or you'll end up with a stone in your mouth"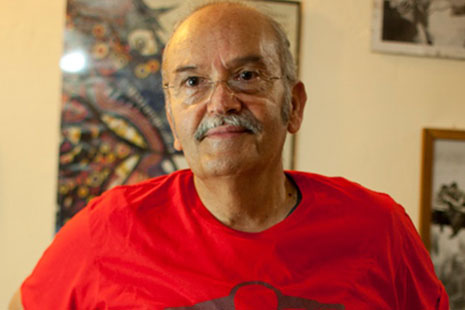 Mr Melchiorre Gerbino, sued by two journalists object of derogatory slurs and judgments, wrote it. It all started with some articles on neo-fascism
The Sicilian historian Mr Giuseppe Casarrubea denounced of threat, libel and slander Mr Melchiorre Gerbino, who calls himself "the leader of the youth revolt in Italy" during this period of dispute, because a few days ago, in an article published on his website, he advised Mr Casarrubea to "keep the mouth shut, or it will end up with a stone in it".
In his articles, on top of threatening Casarrubea with death, Gerbino expresses strongly derogatory judgments against the journalists Ms Claudia Cernigoi (editor of the magazine from Trieste La Nuova Alabarda) and Mr Gianni De Martino, who in turn responded by suing the author.
Before filing the complaint, Casarrubea had asked Gerbino to remove the threats and insults from the site. The request was ingored by Gerbino, who is apparently living in Malaysia where he is a painter, who has also spread the articles via email.
The attacks began when Claudia Cernigoi, a Friuli scholar of neo-fascist movements, wrote the article "From the Provos to Trapani, passing through Piazza Fontana", which was published in La Nuova Alabarda and was then taken up by Casarrubea on his blog on April 3rd, entitled "Brown-Red Movements in Italy". In the article, Cernigoi analyses some political movements of the past, talks about the role that Gerbino had in the Italian Provos and cites his accusation against De Martino, at the time editor of World Beat ( "he was a spy").
Gerbino reacted by publishing on his website the article "Claudia Cernigoi, Giuseppe Casarrubea, Giovanni De Martino: the lightweight of the Italian secret services" in which, among other things, he defines Cernigoi and Casarrubea as "intelligence agents" and De Martino as a "spy and murderer". The three persons are also referred to as "repellent human beings". The text ends with the death threat against Casarrubea.
Moreover, Gerbino makes very serious general assertions, accusing of responsibility in the assassination of the journalist Mr Mauro Rostagno – a crime for which the Court of Trapani, on May 16th, sentenced two mobsters to life imprisonment – the Jesuits Ennio Pintacuda and Bartolomeo Sorge (deceased), the former minister and now constitutional judge Sergio Mattarella and the mayor of Palermo, Leoluca Orlando.
Finally, Gerbino has dedicated to Casarrubea and two other journalists lengthy articles deemed derogatory and offensive by those concerned.
DF

I contenuti di questo sito, tranne ove espressamente indicato, sono distribuiti con Licenza
Creative Commons Attribuzione 3.0