UN rapporteur in Geneva: "Italy must decriminalize defamation"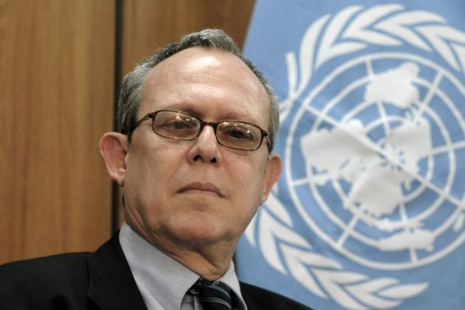 Frank La Rue, Special Rapporteur on freedom of opinion and expression, presented a report to the Council for Human Rights of the United Nations
The crime of defamation in Italy must be completely decriminalized. The UN Special Rapporteur on the right to freedom of opinion and expression, Mr Frank La Rue, asked so in a report on our country, which was presented on June, 10th in Geneva at the Human Rights Council of the UN, reiterating the recent request already advanced by the OSCE and the Council of Europe (read the appeal).
Mr La Rue has indicated other measures that Italy should take in order to improve the legislation on freedom of expression, such as transparency in the election of the control bodies of RAI and a more explicit law on the conflict of interests (see the minutes of the relationship by La Rue on the UN website in Geneva).
The UN rapporteur was in Italy in November on a mission (read the special issue by Ossigeno on his visit and the final remarks by the UN expert). With La Rue, Ossigenoorganized a conference in the Senate: "All the cases documented by Ossigeno bother me very much", he said on that occasion.
In Geneva, the Special Rapporteur stated, "in line with international standards, I recommend Italy to fully decriminalize defamation, switchinfrom a criminal prosecution to a civil action, in order not to discourage the freedom of expression. Furthermore, the reparations should respect the principle of proportionality."
La Rue requested that the crime of insulting public officials also be removed from the penal code. On the appointment of the members of the regulatory bodies and the board of directors of RAI, La Rue clarified that Parliament "should establish a mechanism that ensures the full transparency of the electoral process for the members of these entities."
La Rue also called for more transparency on the "ownership, control and revenue sources of the media" to ensure pluralism of information, and urged to introduce in the already existing legislation "the explicit incompatibility between holding elected office or of government and ownership of mass media."
La Rue was followed by the Italian delegation to the UN Council to emphasize that Parliament is working to improve the legislation on the conflict of interest, while the Senate is discussing a reform of the libel law that would eliminates jail time for journalists.
The appeal recently signed by La Rue, together with the OSCE and the European Commissioner for Human Rights of the Council of Europe, argues that the reform being debated in the Senate does not provide for the Italian legislation to full align itself to international standards, and in the absence of appropriate amendments, it is likely to be another wasted opportunity. This view is shared by Ossigeno, which has already given its comments.
DF

I contenuti di questo sito, tranne ove espressamente indicato, sono distribuiti con Licenza
Creative Commons Attribuzione 3.0