Bologna. Antagonists invade the newsroom of La Repubblica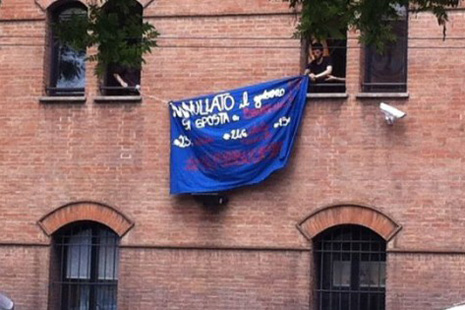 They accused journalists of being "servants" and write infamous things. "We made an opening gesture by seeking confrontation" a journalist said
It ended in smiles and handshakes the half-hour-long raid by thirty activists from antagonistic groups that on the morning of June 23rd, invaded the newsroom of Bologna of the Italian national newspaper La Repubblica. The journalists have kept a good face, but the episode shows a clear desire of intimidation.
The protesters entered without warning and broke in with a deception. A girl buzzed the video entry phone and the concierge opened. The others sneaked inside. They crossed a corridor behind a large banner with the words "Renzigovernment cancelled, It moved to Brussels #repubblicastaiserena (#repubblicakeepcalm)".
In the newsroom there were a dozen reporters. The protesters hung the banner outside the windows. Then they posted on a wall of the office a fake front page with sarcastic and surreal news, and distributed a flyer with which they accused LaRepubblica of being a "party" that represses the independence of movements and is an instrument of the government.
Marco Contini is one of the journalists who were present in the newsroom. As he explained to Ossigeno: "They told us that we are the servants of Renzi, that we are loudspeaker of the government, that we write under dictation and that we have written vile things against them. They protested in a civilized manner, and for this we sought a confrontation, even though they did raid in the office. The staff made ​​an opening gesture, but this is not the way to argue. The critique of a newspaper is legitimate, but it cannot be exercised by suddenly breaking ina workplace in a group of people."
The raid lasted half an hour. The approximately thirty protesters belong to anti-capitalist movements like "Rossa" and "Hobo". These are groups that are known in Bologna, the reportersaid, for having recently prevented the Democratic Party from holding a conference, removing the chairs from the room and hanging banners.
DF-ASP

I contenuti di questo sito, tranne ove espressamente indicato, sono distribuiti con Licenza
Creative Commons Attribuzione 3.0