Trieste. Threats against Claudia Cernigoi. Solidarity from Assostampa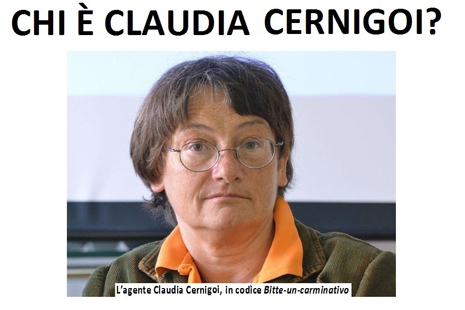 The journalist menacingly denigrated on a website along with Giuseppe Casarrubea and Gianni De Martino. The union calls for the removal of the defamatory articles
The Assostampa of Friuli Venezia Giulia has expressed solidarity with Claudia Cernigoi, a journalist from Trieste threatened and insulted by MelchiorreGerbino, who calls itself "the leader of the youth revolt in Italy". Claudia Cernigoi had mentioned his name in an article on neo-fascist movements, published in the newspaper of which she is editor, La Nuova Alabarda.
Gerbino had directed offensive and threatening language even against the Sicilian historian GiuseppeCasarrubea and the journalist Gianni De Martino. All three had responded with a complaint to the police (read the story).
In the article Dai provos a Trapani passando per piazza Fontana(From Provos to Trapani passing through Piazza Fontana), Cernigoi cites Gerbino and an essay he wrote. The historianCasarrubea republished on the article on his website, and for this reasonGerbino lashed out against both, accusing them, as the press communiqué by Assostampa FVG explains, of being"spies"of various "intelligence services", from the Mossad to the CIA, adding threatingexpressions, such as "I notified the Russian intelligence of this Cernigoi, who needs to be pilloried and Trieste be disinfected by crusts of La NuovaAlabarda", and the advice to Casarrubea (who has to his credit a number of publications on the history of the Mafia in Sicily) to "keep your mouth shut because if you don't want to end up with a stone in it". Those articles were then publicized by sending emails to hundreds of addresses of newspapers, cultural associations, political figures and more.
The reporter told Ossigeno to not be afraid of the threats by Gerbino, but rather by the fact that his falsehoods circulate on the internet: "He even published pictures of me on his website. Someone – she explains – could really think that I am a spy, or that I have waged campaigns against the Palestinian people, and which I actually defend, and could thus be singled out as a target to hit. I will present another complaint requesting the cancellation of all the material on me that Gerbino has published on his website."Assostampasided with Cernigoi, "hoping that the defamatory articles and the incitements to violence are removed from the site as soon as possible."
Cernigoi is an expert on neo-fascism. She has published books and researched inquiries on the subject, and follows the events of the extreme right movements in her hometown. On two occasions the police advised her to get away from the place where a demonstration was taking place, because the neo-fascist militants had told the police that she was a persona non grata. But the journalist remained all the same to follow the events.
DF

I contenuti di questo sito, tranne ove espressamente indicato, sono distribuiti con Licenza
Creative Commons Attribuzione 3.0