Free countries, the threats to journalists and the alibi for not talking about it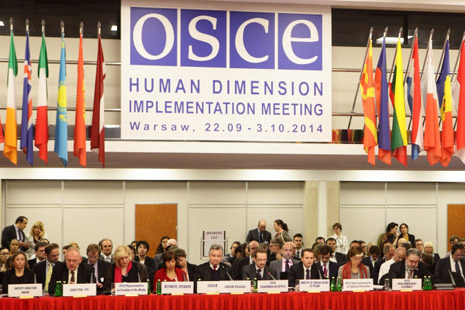 Ossigeno per l'Informazione at the HDIM meeting of the OSCE on human rights taking place in Warsaw. The intervention by Alberto Spampinato on September, 22
Western countries, the most free countries can not use the serious violations of the freedom of press and expression that occur in authoritarian countries and in countries at war as an excuse for not addressing violations that occur in their own territory, which are increasing unchallenged year on year.
It is now clear that the laws and the controls in place today are not sufficient to protect journalists and the public's right to receive information.
A major alarm has just come from the United States, where the Committee to Protect Journalists has just launched an appeal to Barack Obama that was shared by many organizations. In the free Europe there is little talk on these things, because even here to publish unwelcome news to the powers that be is becoming increasingly difficult.
In Italy, for example, the number of threatened journalists, which is already high, has increased by 50 per cent in one year. In the last year, three other journalists have been threatened with death and placed under police protection. Now, as other ten colleagues in the same conditions, they are working escorted by police. The Italian journalists who each year suffer severe intimidation and violence, which mostly stay unpunished, are in the hundreds.
Hundreds more suffer abuse from unfounded complaints and from spurious causes for compensation submitted only with an intimidating purpose. These abuses are known but are undisputed. These threats and these abuses push to self-censorship, forcing small newspapers to suspend publications. All of this is happening in free Italy.
And what happens in other countries like Italy? You need to know what is actually happening in Western countries and better protect the work of journalists. International institutions and non-governmental organizations should wake up to this responsibility, since the media do not represent the facts, but only a small part, and the official statistics do not provide data on this phenomenon. It is clear that we need more insightful observation instruments.
In Italy Ossigeno per L'Informazione has created a method for effective monitoring. This method has allowed us to publish a list of two thousand journalists under threat. This same method can reveal what happens in other countries in which apparently intimidations do not occur. Ossigeno is asking for the help of institutions and NGOs to extend the scope of observation and obtain the necessary information to frame the issues and adapt the legal system to protect the freedom of the press.

I contenuti di questo sito, tranne ove espressamente indicato, sono distribuiti con Licenza
Creative Commons Attribuzione 3.0