Mazara (Trapani province). Slashed car tires of TeleIBS editor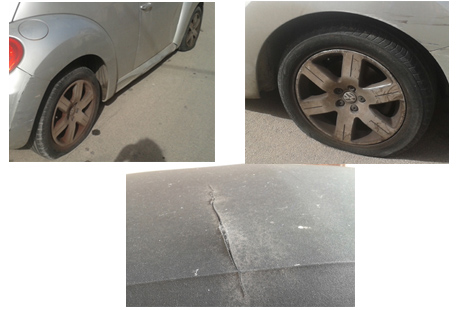 The car's roof was also carved out. Piera Pipitone wrote about the malfunctioning of the treatment plant. Solidarity from the local community
She found the four tires and the roof of the car slashed with a clean cut. Piera Pipitone, editor of the web TV TeleIBS and the fortnightly review L'Opinione di Mazara del Vallo, near Trapani, went immediately to report the incident to the police after seeing on the morning of September, 18 her car damaged. She received solidarity from colleagues and local administrators.
"I think the act of vandalism was directed against me because only my car was affected, the others nearby have not been touched", the reporter, who is particularly concerned with politics and public administration, told Ossigeno.
Pipitone explains that in the issue of L'Opinione which came out two days before the intimidation, an article entitled "Do you know what is wrong with the purifier?" was published, in which the problems caused by the illegal dumpings and a breach in the pipeline into the sea were exposed. She had already written in July about the purifier's malfunctions and even after the release of that article something strange happened. "My brother had found the rubbish we leave by our house for the door-to-door collection charred, but he didn't tell me: it seemed just an accident. Now I suspect that the two incidents are related."
THE STATEMENT AND THE SOLIDARITY – "From this vile and unpleasant event, carried out by persons acting in the shadows of the night with cowardice, we will draw further incentives to continue our journalistic work with renewed vigour", the journalist wrote in a press release following the denouncing of the intimidation.
Solidarity has been expressed by colleagues and public figures of Mazara del Vallo, such as the editorial board of Televallo and of Mazaraonline.it, by the representative of the anti-racket association "I do not pay protection money … and you?" Francesca Incandela, by the President of the City Council Vito Gancitano, and by the councillor Francesco Foggia and activists of the 5 Stars Movement.
DF

I contenuti di questo sito, tranne ove espressamente indicato, sono distribuiti con Licenza
Creative Commons Attribuzione 3.0