Palmi (Reggio Calabria province). Mayor against journalists who criticize him: "You are a plague"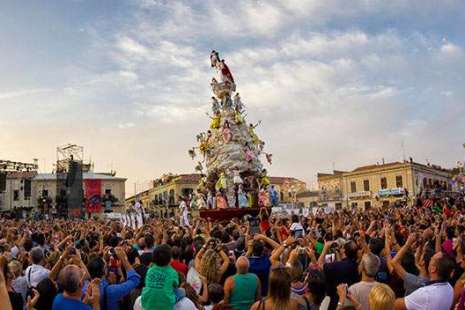 The public insult during the feast of the Varia. A commissioner asked to remove the posters of Il Garantista from newsstands
"Some journalists should go away from the city, they should be pushed away, they are a plague, they write falsehoods." "Do not buy that newspaper, enemy of the city" said Giovanni Barone, Mayor of Palmi, a town in the province of Reggio Calabria, on the evening of August 31st from the stage set up for the Varia, a Catholic folk festival that in 2013 became part of the UNESCO world heritage.
"The attack of the mayor of Palmi, clearly directed against our newspaper and reporters, came after a series of incidents that have left us quite perplexed," says Francesco Altomonte, editor of the newspaper Il Garantista.
The newspaper had criticized the preparations for the Varia, the committee that managed the organization of the feast and the town administration. "We challenged – Altomonte continues – the mayor's choice to appoint as president of the Committee for the Varia the regional councilor for culture Mario Caligiuri, who was supposed to bring prestige, but which we believe has not given anything extra to the event; we discussed the choice of inviting, at the expense of the citizens, Vittorio Sgarbi, and we have reported the degradation besetting the city on the eve of the feast."
"On August 30th – the journalist added – the day before the event, Viviana Minasi, our colleague who followed for Il Garantista the preparations for the Varia, wrote an article which reported the presence of dead mice in Palmi, to make it clear the conditions in which the city was about to welcome tourists."
"The article was published in the newspaper on the day of the feast, and, as far as we know, the Councillor to the environment of the town of Palmi, Giuseppe Isola, told newstands to remove the posters of our newspaper, a request that has been confirmed from retailers," Altomonte recounts.
RR

I contenuti di questo sito, tranne ove espressamente indicato, sono distribuiti con Licenza
Creative Commons Attribuzione 3.0