Threatened journalists. The Ossigeno method will be applied abroad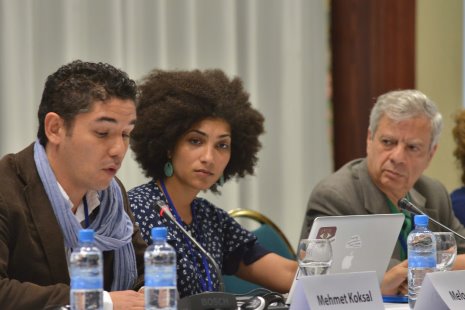 The system for the monitoring of intimidation experienced in Italy has been discussed in Skopje by international experts
Skopje, October 17 – On top of blatant and obvious threats, journalists who write unwelcome news may be threatened by powerful and vindictive people with subtle intimidations, not visible through normal observations, but which may prevent the flow of important information to the public. Who observes the phenomenon can not be limited to the blatant and obvious cases, but must therefore be equipped with suitable instruments for observation, as Alberto Spampinato said in Skopje, Macedonia.
The Director of Ossigeno per l'Informazione stated it during the international debate on "Disguised censorship in free countries", which was attended by journalists and experts from Vienna, Brussels, Prague, Berlin, London and the Balkans.
"The subtle intimidation, which is invisible to the naked eye, is widespread throughout the so called free countries, such as Italy – Alberto Spampinato added – fueling a real but uncacceptable censorship, which escapes prohibitions and controls. To fight off this hidden censorship, it is first necessary to get to know it and study it. So appropriate tools are required, such as the monitoring method developed by Ossigeno, which has been applied for over six years in Italy and has revealed the names and the faces of more than two thousand threatened journalists, who were invisible before.Some associations that share the Ossigeno's project, will now apply the same monitoring tool in other Western European countries like Italy."
The debate was attended by Oliver Vujovic, Secretary General of SEEMO (South East European Media Orgasnization, which met in conference in Skopje), Scott Griffen, councillor of the International Press Institute in Vienna, Mehmet Koksal, head of Projects at the European Federation of Journalists in Brussels, Joanna Levison, Director of Communications and external Relations of Radio Free Europe – Radio Liberté (Prague), Melody Patry, advocacy supervisor for Index on Censorship (London). All have shown interest in the method of threat monitoring applied in Italy.
The issue was also discussed during the presentation of the results of the project "Safety Net for European Journalists", with which the Observatory Balkans and Caucasus and Ossigeno per L'Informazione cooperate, and of the Study on defamation in Europe by the IPI in Vienna.
ASP

I contenuti di questo sito, tranne ove espressamente indicato, sono distribuiti con Licenza
Creative Commons Attribuzione 3.0