Torre Annunziata. Journalist insulted during the press conference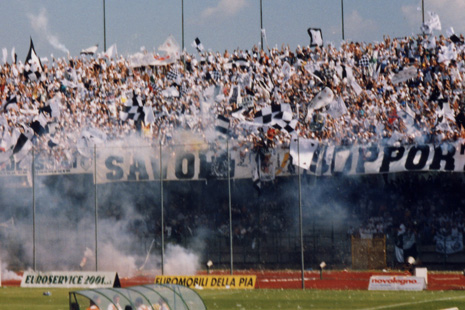 The managers of the Savoia Football club were present, but they did not defend the collaborator of lo Strillone.TV
"We've had enough of your articles, you have to stop them." With these words, a former hooligan leader and former city councilor has abused with further heavy insults the collaborator of loStrillone.TV, Gianluca Buonocore, during a press conference at the Savoia Football club. It happened on September 13 at the press center of the club in Torre Annunziata, near Naples. A fan of the team avoided physical confrontation. The club's managers did not intervene. The broadcaster has issued a note of protest.
The newspaper Metropolis has expressed solidarity with the journalist and his colleagues. The conference was convened to present the new team jerseys for the 2014-2015 season. In the dining room the reporters were listening to the words of the President Quirico Manca and the head of communications Rodolfo Nastro.
As Buonocore told Ossigeno: "At one point, the former city councilman Domenico De Vito began yelling at me with personal insults, and raised his voice when I asked him why he did it." A fan then removed De Vito. "Neither the president Manca nor the head of communications Nastro – the colleagues of loStrillone.Tv complain – felt the need to take action to remove a person who does not hold any public nor company office, and who had the freedom of access to the press room and verbally offend our correspondent."
At the origin of the episode, according to the editor and owner of the loStrillone.TV, Catello Germano, "it would seem to be the publication of a scoop on our paper where the positive opinion of the competent bodies about the viability of the stadium was reported, with the consequent rolling out of the match Savoia-Benevento in Torre Annunziata.Perhaps De Vito wasn't pleased that we have not mentioned his name."
The WebTV has taken a stand in defense of its own assistant, with a note that condemns the behavior of the A.C. Savoia 1908 for having allowed access to a stranger to the pressroom and then verbally attack a journalist. The newspaper Metropolis has expressed solidarity with the journalist and the board of Strillone.TV.
AFI

I contenuti di questo sito, tranne ove espressamente indicato, sono distribuiti con Licenza
Creative Commons Attribuzione 3.0