What is going on in Italy – Ossigeno Safety Net 15th – 21st September 2014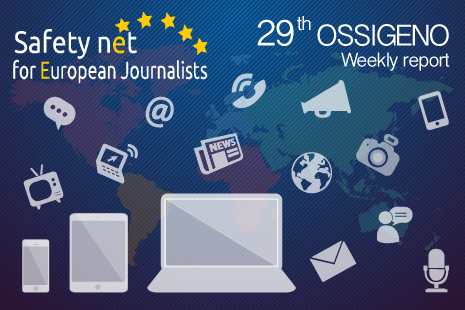 The 29th of  48 weekly reports created with the support of the European Union and distributed in eleven countries in order to promote a common understanding
Ossigeno Safety Net – Weekly Report 15th – 21st  September 2014
What happened in Italy: threatened journalists and obscured news
In Italy insults, intimidation and threats continue unceasingly to strike journalists and media workers. Here are the facts and stories that Ossigeno recounted in the past few days.
INSULTS – On August 31st, the mayor of Palmi (in the province of Reggio Calabria) Giovanni Barone, insulted local journalists who had criticized him publicly from the stage of a celebration in the town square. A few hours earlier a municipal councilor asked the newsstands to remove the posters of the newspaper Il Garantista, for it reported the discovery of carcasses of rats in the city a few hours before the event.
INTIMIDATION AND THREATS – The journalist Romano Bartoloni found the tires of his car slashed on August 14th. It happened in Marciana Marina, on the Elba island, and, according to the reporter who has been covering the area for years and writes on local newspapers and the online edition of Il Tirreno, it is retaliation for the publication, in the previous days, of some articles in which he criticized the choice of local administrators to turn the bicentenary of Napoleon's exile on the island into a major event.
The journalist Brunetto Fantauzzi received three anonymous phone calls in which the unidentified persons warned him not to republish his book Moana – Amori e Segreti (Moana: Secrets and Affaires), biography of the porn star Moana Pozzi, who died twenty years ago. The news was made public by the news agency Ansa.
Dario Maestri, an entrepreneur from Pavia, had threatened to "physically eliminate" a reporter of the daily La Provincia Pavese, whose name has not been revealed, and the freelance journalist Giovanni Giovannetti. The intimidation emerged from some phone taps carried out between late 2011 and early 2012 during an investigation of the town attorney.
The journalist Francesco Saccardin, 38 years old, crime and judicial reporter for Rovigo Oggi, denounced the Police for an episode of which he was the victim on July 19th when, he said, he had been beaten and detained unlawfully for three hours in a security cell of the train station in Venice.
FORECLOSURE RISKS – Il Gazetin, monthly of the town of Morbegno in the province of Sondrio, is likely to cease publications due to the convictions for defamation incurred for the publication of some critical articles on bankruptcy proceedings that has been going on for 16 years. Between penalties and legal fees so far, the newspaper has paid out 48'000 euros already.
CPJ PETITION- Ossigeno per l'Informazione supports the campaign "Right to Report" launched by the Committee to Protect Journalists, also supported by a number of organizations that defend freedom of information. The campaign was initiated by a petition sent to Barack Obama in which a request for the respect of the right of journalists to obtain and report the news in the digital age was presented to the White House.
Palmi (Reggio Calabria province). Mayor to journalists who criticize him: "You are a plague"
The public insult during the Varia feast. A commissioner asked to remove the posters of the daily Il Garantista from newsstands. "Some journalists should go away from the city, they should be pushed away, they are a plague, they write falsehoods."
"Do not buy that newspaper, enemy of the city", shouted Giovanni Barone, Mayor of Palmi, a town in the province of Reggio Calabria, on the evening of August 31, from the stage set up for the Varia, a Catholic folk festival which in 2013 became part of the UNESCO world heritage. (Continue reading)
Elba Island. Slashed tires of Romano Bartoloni's car
In the preceding days, the President of Roman reporters had criticized the celebrations for the bicentenary of Napoleon's exile on the island. On August 14th, in Marciana Marina, Bartoloni found the tires of his car deliberately slashed and rendered impossible to reuse. He is convinced that the gesture could be in retaliation for the publication in the local press, in earlier days, of a number of articles in which he criticized the choice of local administrators to turn the bicentenary of Napoleon's exile on the island into a major event on. (Continue reading)
Fantauzzi threatened after announcement of a new book on Moana Pozzi
The author of several biographies of the pornstar submitted to the prosecutor's office in Rome a lawsuit against unknown persons
The journalist Brunetto Fantauzzi received three anonymous phone calls. Unknown persons, as reported by the news agency Ansa, have warned him not to republish his book Moana – Amori e Segreti, biography of the porn star who died twenty years ago. For this he filed a complaint on September 9th. (Continue reading)
Pavia. Entrepreneur threatened two journalists: "We need to eliminate them"
The builder talked with the former Deputy Mayor Mr Filippi. The phrases emerged from a judicial phone tap. A private investigator hired to follow them.
"We'll make them feel it, the fear. We need to physically eliminate them." "I no longer care about lawsuits, I just want to break his face". These are some of the sentences spoken over the phone against two journalists (a reporter of the newspaper La Provincia Pavese, whose name was not released, and the freelance journalist Giovanni Giovannetti) by Dario Maestri, entrepreneur from Pavia, phone tapped between the end of 2011 and early 2012 during an investigation by the city attorney. (Continue reading)
Venice. Reporter stopped for photos in train station files complaint against police agents
Francesco Saccardin was detained for three hours and sued for contempt, resistance to a public officer and public drunkenness. He sued the agents.
The journalist Francesco Saccardin, 38 years old, a crime and judicial reporter for Rovigo Oggi, denounced the train police claiming that on July 19 he was beaten and detained unlawfully for three hours in a security cell of the train station of Venice "without having committed any offense", the journalist said. (continue reading)
Complaints. Valtellina. Il Gazetin risks foreclosure due to convictions
So far, the penalties have reached 48 thousand euros. The last conviction was for an illustration that cites an historic manifesto.
Il Gazetin, a monthly from Morbegno in the province of Sondrio, risks to cease publication because of convictions for defamation incurred for the publication of some critical articles on a bankruptcy began over sixteen years ago in Sondrio. (continue reading)
USA. "Right to report." Ossigeno supports the CPJ petition sent to Obama
The organization that battles for press freedom has launched an appeal to defend the right of journalists to obtain and report the news in the digital age.
The Committee to Protect Journalists (CPJ), an independent organization based in New York founded in 1981 with the aim of defending the freedom of the press and the rights of journalists worldwide, has launched the "Right to report" campaign. (continue reading)
RR

I contenuti di questo sito, tranne ove espressamente indicato, sono distribuiti con Licenza
Creative Commons Attribuzione 3.0
Questa pubblicazione è stata prodotta con il contributo dell'Unione Europea. La responsabilità sui contenuti di questa pubblicazione è di Ossigeno per l'informazione e non riflette in alcun modo l'opinione dell'Unione Europea. Vai alla pagina del progetto Safety Net