What is going on in Italy – Ossigeno Safety Net Ossigeno – 6th – 12th October 2014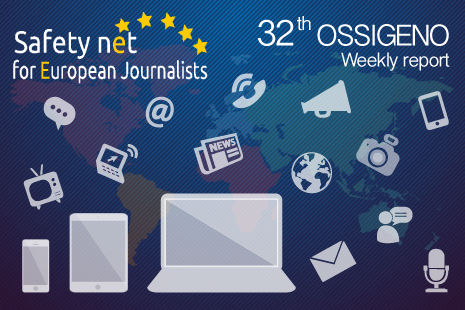 The 32nd of 48 weekly reports created with the support of the European Union and widespread in eleven countries to promote a common understanding
Ossigeno Safety Net – Weekly Report 6th– 12th October 2014
What happened in Italiy: threatened journalists and obscured news
Ossigeno per L'informazione launched an appeal to the premier Matteo Renzi on the eve of the vote in the Senate on the bill approved last year by the House of Representatives to amend the rules on libel for the decriminalization of libel by deleting those provisions that allow the abuse of the lawsuits for intimidation and claims for damages against journalists.
AGGRESSIONS – During this week, Ossigeno has recorded three cases of aggression against journalists and cameramen: on October 5th in Cava de' Tirreni, in the province of Salerno, Carmine Benincasa, a journalist for the Corriere del Mezzogiorno, was attacked by ten people, slapped and kicked, threatened, chased and detained for more than half an hour because he had footage of the fireworks launched from an area that, in his view, was not sufficiently apart from where pedestrians walked by.
On September 14th, Laura Magli, journalist for Pomeriggio5, was attacked and beaten along with her cameraman in Govone, in the province of Cuneo, from a man who she wanted to interview about the disappearance of his wife nine months ago. During the aggression, the camera and the tablet of the reporter were also damaged.
The reporter for the TV show Striscia La Notizia Domenico De Pasquale, also known as Mingo, was attacked along with his crew in an unspecified site in Puglia by a man who was apparently publishing fake job posts on the internet. The report was broadcast during the episode of September, 29th.
INSULTS – On October 4, the envoy of the TG2 Valerio Cataldi and the operator Ninni Farina were victims "of verbal abuses and threats" as they walked in a street in the center of Lampedusa. The fact was denounced in a statement by the editorial board of the news boradcaster and the RAI union of journalists (UsigRai). They were attacked by people who did not appreciate the jouranslits' reports on the landings of migrants on the island.
CONDEMNATION – The Gruppo Editoriale Espresso has been ordered to pay 50 thousand Euros to the Minister of the Interior Angelino Alfano, who had opened a civil lawsuit against the weekly L'Espresso for an article published on November 5th, 2009.
On October, 6th the Court of Appeal of L'Aquila rejected the appeal filed by the newsoutlet La Voce delle Voci against the executive foreclosures at the newspaper's expense following the proceedings concerning an article on a representative of the Italia dei Valori party in Abruzzo. The editor in chief, Andrea Cinquegrani, also denounced the words with which the file was registered: "personal injury" instead of "defamation".
FILINGS – On October 8, the judge for preliminary investigations of Padua, Margherita Brunello, has filed the charges of attempted defamation borne by the journalist of the TV show Report Sigfrido Ranucci, denounced by the mayor of Verona, Flavio Tosi. The mayor had lashed out at the service for its allegations on his supposedly criminal behavior. The court upheld the right to exercise freedom of the press.
Defamation. Ossigeno to Renzi: it is not enough to remove prison sentences
The debate in the coming days in the Senate has the opportunity to introduce the amendments in the bill solicited from all over Europe.
In the coming days, the Senate will eventually be called to vote on the second reading of the bill approved last year by the House of Representatives to amend the rules on libel replacing imprisonment with fines. (continue reading)
Cava de' Tirreni (Salerno province). Journalist assaulted and threatened with death
The reporter of the Corriere del Mezzogiorno was filming the launch of fireworks. Pursued by ten people, was then forced to delete the footage. "I'll kill you." "I'll throw you off the cliff." "We know where to pick you up."
Carmine Benincasa, a 22-years-old journalist for the Corriere del Mezzogiorno, was attacked by ten people, slapped and kicked, threatened, chased and detained for more than half an hour because he had filmed the fireworks that were launched from an area too close to pedestrians, in the journalist's opinion, without regard for the safety distance. (continue reading)
Pomeriggio5. Journalist and cameraman assaulted in Govone (Cuneo province)
The reporter was struck with an object from the husband of a missing woman, who also broke the camera of the operator and the reporter's tablet.
She was attacked and beaten by a man whom she wanted to ask a few questions about his wife who has been missing for nine months. Laura Magli, journalist for the TV show Pomeriggio5, on September 14 was with a cameraman in Govone, in the province of Cuneo, in front of the house of the parents of Elena Ceste. (continue reading)
Apulia. Striscia La Notizia crew attacked by alleged fraudster
Instead of giving explanations, the man threw the camera on the ground and started throwing stones against the reporter of the broadcaster Canale 5.
The envoy of the TV show Striscia La Notizia Domenico De Pasquale, also known as Mingo, was attacked along with his crew in an unspecified site in Apulia by a man who was supposedely publishing fake job posts on the internet. (continue reading)
Lampedusa. Commemoration of shipwreck, insulted the TG2 film crew
The operator Ninni Farina and the journalist Valerio Cataldi were verbally assaulted, apparently because the reporter said that there were delays in the rescue operations amidst the tragedy of October 3, 2013 where 368 people lost their lives.
The envoy of the TG2 Valerio Cataldi and the cameraman Ninni Farina have been victims "of verbal abuse and threats" as they were walking in a street in the center of Lampedusa on Saturday, October 4. (continue reading)
Defamation. Espresso Group ordered to compensate Alfano
The court of Agrigento has considered defamatory an article which reconstructed the history of the then Minister of Justice. Sanctioned 50 thousand euros.
The Gruppo Editoriale Espresso has been ordered to pay 50 thousand euros to the Minister of Interior Angelino Alfano, who had opened a civil lawsuit against the weekly L'Espresso on an article published on November 5, 2009. (continue reading)
Appeal by "La Voce delle Voci" rejected. It was classified as "personal injury"
The newsoutlet, convicted of defamation, demanded the suspension of foreclosures that surpassed one hundred thousand euros. But the Court of Appeal of L'Aquila said no. Appeal to Order and FNSI.
On October, 6 the Court of Appeal of L'Aquila dismissed the appeal by La Voce delle Voci against the executive foreclosures at the expense of the newspaper following the proceedings concerning an article on a representative of the Italia dei Valori party in Abruzzo. (continue reading)
Defamation. Archived Tosi accusation against Ranucci (Report)
The mayor of Verona filed a lawsuit against a report that alleged incriminating behavior on his part. The judge deemed it regular exercise of freedom of the press.
The judge for the preliminary investigations of Padua, Margherita Brunello, on October 8 filed the charges of attempted defamation borne by the journalist of the TV show Report Mr Sigfrido Ranucci, denounced by the mayor of Verona, Flavio Tosi. (continue reading)
RR

I contenuti di questo sito, tranne ove espressamente indicato, sono distribuiti con Licenza
Creative Commons Attribuzione 3.0
Questa pubblicazione è stata prodotta con il contributo dell'Unione Europea. La responsabilità sui contenuti di questa pubblicazione è di Ossigeno per l'informazione e non riflette in alcun modo l'opinione dell'Unione Europea. Vai alla pagina del progetto Safety Net