What is going on in Italy – Safety Net Ossigeno 8th-14th September 2014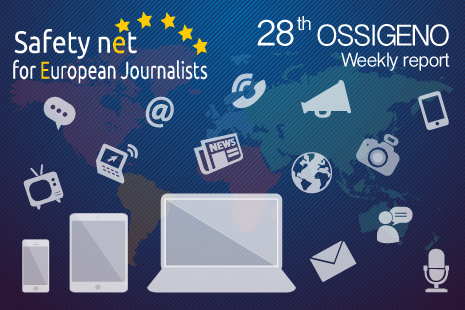 The twenty-eighth of 48 weekly reports created with the support of the European Union and distributed in eleven countries in order to promote a common understanding
Safety Net Ossigeno – Weekly Report 8th-14thSeptember 2014
What happened in Italy: threatened journalists and obscured news
  Three episodes of aggression against journalists and media workers and one case of threats against a reporter from a boss in prison.
AGGRESSIONS – In Enziteto, neighbourhood on the outskirts of Bari sadly notorious for drug dealing, Leonardo Zellino, a RAI journalist for the TGR Puglia, and a cameraman for the "Luca Turi" News Agency were insulted and threatened with death on 6th September last. They had gone to the place where, the evening before, a criminal had been "kneecapped". The cameraman was kicked around so as to seize the camera from him, which was then returned.
In Calabria, in Canolo (in the province of Reggio Calabria) on August 10th during the "Festa del Pane" (Bread Fair), Mr Giuseppe Trimarchi, anti-mafia civil rights activist and author of the book-dossier "Calabria Ribelle" (Calabria the Rebel), has been publicly insulted and forced to dance in the streets. He was then told to go away.
On August, 14th Mr Emiliano Esposito, editor of ePressonline.net and collaborator for NapoliToday.it, and the operator Mr Diego Civitillo, were filming police charges during a protest a few hundred meters away from the City of Sciences, in Bagnoli (Naples), when an undercover policeman snatched the camera from them, threw it on the ground and seized it, ordering to delete the recording.
THREATS – From the phone taps of the District Anti-Mafia Directorate of Catanzaro during the investigation of the so-called operation "Hybris", which on August 25th led to the arrest of twenty people accused of being part of the Procopio-Mongiardo clan, threatening phrases have emerged from an alleged boss of the 'Ndrangheta, Mr Mario Mongiardo, against Mr Francesco Ranieri, a journalist of the Gazzetta del Sud.
BURGLARY – The blogger Salvo Mandarà, who runs the video channel Salvo5puntozero, told the daily Il FattoQuotidiano that on the night between the 24th and 25th of July, in Milan, while he was on holiday elsewhere, his house's door was forced open and a "No Tav" flag that was hanging on the wall was bent.
VANDALIZATION – In Syracuse, a plaque in memory of the journalist Mario Francese, chronicler for the Giornale di Sicilia who was killed by the mafia in Palermo in 1979, was severely damaged. The plaque was found on the ground on September 10th and was split into several parts.
Bari. RAI film crew assaulted and robbed of camera in Enziteto
The journalist Leonardo Zellino and his cameraman have been threatened with death. The camera was returned shortly after. Carabinieri called to do the filming
Insults and death threats, then a kick and the camera that is violently taken away, only to be returned shortly after. It is the serious intimidation of which Leonardo Zellino, RAI journalist for the TGR Puglia and a cameraman from the "Luca Turi" News Agency were victims on Saturday, September 6th. Continue reading
Calabria. Anti-'ndrangheta activist attacked and ridiculed in public square
In Canolo (in the province of Reggio Calabria) on August 10th during the "Bread Fair" a man insulted and forced to dance in the Piazza Giuseppe Trimarchi, who was then told to leave
During the village celebrations, they lifted him, dragged him in the middle of the public square and forced him to dance the tarantella with them. They mocked him, insulted him and told him to go home. Continue reading
Naples. Reporter and video reporter attacked by policeman
On August 14th, demonstration against Renzi at the City of Sciences. Journalist and cameraman shoot the event. Policeman throws camera on the ground wiping out the video. 
They were filming police charges during a protest a few hundred meters from the City of Sciences, in Bagnoli (Naples), when an undercover policeman snatched the camera from them, threw it on the ground and seized it, ordering to erase the recordings. Continue reading
Calabria. Boss ordered from prison: threaten that reporter
The phrases by the alleged leader of the Mongiardo clan against Francesco Ranieri, chronicler for the Gazzetta del Sud from Soverato (in the province of Catanzaro) have emerged from 2010 phone taps. Solidarity from colleagues and the union.
"He must not write crap about me or I'll smash his head, seriously". It is one of the phrases by an alleged 'Ndrangheta boss, Mario Mongiardo, against Francesco Ranieri, a journalist of the Gazzetta del Sud working in Calabria in the Soverato area. Continue reading
Milan. Blogger complains of intrusions in his home
The blogger Mr Salvo Mandarà, who runs the video channel Salvo5puntozero, told the daily Il FattoQuotidiano that on the night between 24 and 25 July, while he was on vacation, the door of his home in Milan was forced open. Continue reading
Syracuse. Uprooted from public park the plaque commemorating Mario Francese
The plaque commemorating the reporter killed by the Mafia in 1979 was found on the ground, damaged. The Order of Journalists of Sicily: "grave insult to memory"
It was badly damaged, in Syracuse, the plaque in memory of Mario Francese, chronicler of the Giornale di Sicilia killed in Palermo by the Mafia in 1979. Detached from its holding space, the plaque was found on September 10th on the ground and split into several parts. Continue reading
RR

I contenuti di questo sito, tranne ove espressamente indicato, sono distribuiti con Licenza
Creative Commons Attribuzione 3.0
Questa pubblicazione è stata prodotta con il contributo dell'Unione Europea. La responsabilità sui contenuti di questa pubblicazione è di Ossigeno per l'informazione e non riflette in alcun modo l'opinione dell'Unione Europea. Vai alla pagina del progetto Safety Net