Naples. Journalist attacked during anti-ECB demonstration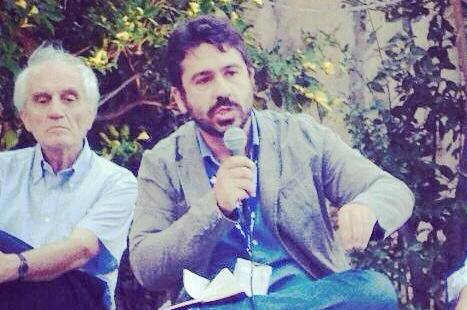 Some protesters have kicked him and pushed him, snapped the microphone from him and threw it away. He files a complaint, but says: "the episode does not affect the peaceful demonstration"
"You've done enough". "You've got to go". Kicking, shoving and a ripped microphone.NelloTrocchia, reporter for the TV show La Gabbia, broadcast on the channel LA7, was following the anti-ECB demonstration held in Naples on October 3rd, when he was attacked by a group of protesters who kicked him and pushed him and, ultimately, stolen the microphone from him. The journalist is considering whether to press charges, but he acknowledges that it was an episode on the sidelines of a peaceful demonstration. Solidarity from GianluigiParagone.
THE PROTEST – The demonstration was organized by various organizations and movements from the antagonist fringes and from the community centres to protest against the austerity policies in Europe. The protesters had tried to force the "red zone" surrounding the Royal Palace of Capodimonte, where the summit was taking place between the heads of the central banks; pushed back by the police, they moved towards the city centre. As the event was drawing to a close through Corso Umberto I, the attack took place against the journalist.
"After interviewing some protesters – he says – I was moving towards the head of the demonstration, when, at Piazza Nicola Amore, also known as Piazza Quattro Palazzi, I see people who are wearing hoods. A moment later I was hit with considerable force from behind with a kick that made me waver." Trocchia saw two people running away, but he cannot say whether they were the attackers who hit him. It is at that point that a young man arrives, pushing the La Gabbia reporter, insulting him, and snatches the microphone from his hands throwing it into a construction site.
But that's not all. Trocchia is then approached by some protesters, who shout at him, kick him and shoving him around, ordering him to leave the parade. "You've got to go, you hear me?" they tell him, repeatedly, and screaming.
The journalist is preparing to file a complaint for the assault he has been a victim of. An episode that he defines as "zero-tolerance" by "marginal people who are alien to the spirit of the demonstration", and as such "didn't obfuscate the peaceful nature of the event", while defining his attackers as "a few thugs masquerading as protesters. They left me with the sorrow for the poverty of mind shown by four thugs with a burned life."
During the airing of the service, the conductor of La Gabbia, GianluigiParagone, reported "the ugly incident" happened to Trocchia, blaming the perpetrators of the attack.
AFI

I contenuti di questo sito, tranne ove espressamente indicato, sono distribuiti con Licenza
Creative Commons Attribuzione 3.0