What is going on in Italy – Safety Net Ossigeno – October 27th – November 2nd, 2014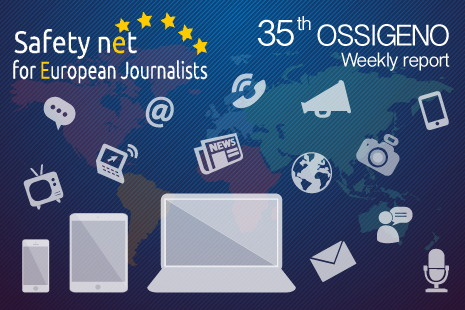 The 35th of 48 weekly reports created with the support of the European Union and distributed in eleven countries to promote a common understanding
Safety Net Ossigeno– Weekly Report October 27th – November 2nd, 2014
What happened in Italy; threatened journalists and obscured news
During the week in Italy the debate on the approval by the Senate of the bill on defamation has been sparked. It provides for the abolition of imprisonment for convicted journalists, but introduces some changes that Ossigeno does not consider a step forward: these include the extension of fines of up to ten thousand euros also for registered online newspapers. The new amendment responds only partially to the calls made by European Institutions asking the Italian authorities to align national legislation to European law. The text will now go back before the Lower House. For Senator FeliceCasson, vocal proponent of an amendment to the existing legislation on defamation, it is "a missed opportunity".
ONE-STOP-SHOP AGAINST INTIMIDATION – in order to help reporters, bloggers, photo- and video- reporters who suffer threats because of their work, it is necessary to create a one-stop-shop through which denunciations of the more serious and relevant episodes can promptly reach both the competent authorities and the professional institutions. It is a proposal advanced by the Director of Ossigeno, Alberto Spampinato, at a hearing of the AGCOM (Authority for Communications), as part of the inquiry on "Information and Internet in Italy. Business models, consumption patterns, professions ".
THREATS – On Tuesday, October 28th CosimoCaforio, a 52-year-old convicted felon, broke into the television studio of the broadcaster Studio 100 TV, in the municipality of Statte near Taranto. Armed with a toy gun and in a daze, he closed the door from inside and pretended to read a press release but rambled. The technical staff then stopped him.
AGGRESSION – On October 14th, two photographers and a video reporter, both employees of the daily Il Secolo XIX, were pushed around by four men who were escorting BeppeGrillo while he was visiting the flood-hit areas of the city of Genoa. A video by the daily Corrieredella Sera shows Grillo ordering four people to keep the journalists away, especially the cameramen.
CITATION – The journalist DomenicoCondello is being sued by Senator DomenicoScilipoti for having published, and then corrected, on his blog Stop Censura an ANSA report, later proved wrong, which read that Scilipoti and Antonio Razzi, former Members of the Italy of Values party (centre-left), were under investigation for the suspicion of corruption due to their passage to centre-right parties.
The news outlet Primocanale.it sued for threats the President of the Liguria Region Claudio Burlando after that he, at the end of a press conference held in Genoa on October 16th, had told the journalist Dario Vassallo: "You will end up badly, you are something which is valueless".
FILING – On October 22nd, the court of Rome has filed a complaint from the far-right movement Casa Pound against Mr Marco Pasqua, journalist of the daily Messaggero, for an article in which he referred to a neo-fascist pro-Assad rally.
Defamation bill. In the Senate a few changes. Punishment for reckless lawsuits
Other new features include the right to be forgotten and adjustments on the web, which however are worrying. Now the text will return to the Lower House
The draft law on libel will go back to the House of Representatives for a second reading after having been approved by the Senate following two short sessions (170 ayes, 10 nays, 47 abstentions). The Senate has introduced a number of changes to the text already approved by the lower House on October 18, 2013, providing for the abolition of imprisonment for convicted journalists, but not all of these modifications can be deemed improvements. (continue reading)
Defamation bill. Casson: its a missed opportunity. Interview
"In the text both positive and negative rules. For the first time reckless complaints and quarrels will be punished. For the decriminalization, the battle will continue"
"The Senate has lost an excellent opportunity to draw up a good libel law," he Senator FeliceCasson said in an interview with Ossigeno per l'Informazione, who in the Senate was the most tenacious protagonist of the battle to improve bill passed today by the House. (continue reading)
Threatened journalists. Ossigeno sustains a one-stop-shop solution against intimidation
During the AGCOM hearing, the executives of the Observatory have raised the issue of frivolous lawsuits and the lack of statistics
For threats, because of the kind of work involved, it is necessary to create a one-stop-shop through which the reports of the more serious and relevant episodes can promptly reach both the competent authorities and the professional institutions. (continue reading)
Taranto. Breaks into the TV studio during the news, arrested
In a daze, he pretends to read a statement threatening the presenter with a toy gun. Arrested by police
He broke into the television studios of the broadcaster Studio 100 TV, in the town of Statte, near Taranto, with a weapon that turned out to be a toy gun. CosimoCaforio, a 52 years old convicted felon, was arrested by the police in the late afternoon of Tuesday, October 28. (continue reading)
Genoa flooded. Beppe Grillo and journalists. Jostling and protests
It happened when the M5S leader visited the city. He had asked for a two thousand euro donation to give interviews. Two contradicting versions and a video
Four men who escorted BeppeGrillo while visiting the areas affected by the floods in Genoa, jostled two photographers and a video reporter, employees of the newspaper Il Secolo XIX. It happened on October 14th. (continue reading)
Blogger corrects wrong news, but the MP Scilipoti files a lawsuit nonetheless
DomenicoCondello had reposted a newsfeed on the senator from the ANSA news agency, in connection to an alleged corruption investigation, then denied and immediately rectified by the blog
In March 2013, ANSA wrote that DomenicoScilipoti and Antonio Razzi, former Members of the Italy of Values party, were under investigation for offense of corruption following their passage to the centre-right coalition. Soon after, the denial by the prosecution of Rome arrived, and immediately Condello, in his blog Stop Censura, rectified the news. (continue reading)
Genoa. Burlando threatens reporters. He then apologizes, but they are suing
Primocanale.it did not accept the apologies for a phrase said to Dario Vassallo and has sued the president of the Region of Liguria
The online newspaper Primocanale.it has sued for threats the president of the Liguria Region, Claudio Burlando, after that he, at the end of a press conference held in Genoa on October 16, told the reporter Dario Vassallo: "You will end up badly, you are valueless". (continue reading)
Defamation. Lawsuit from CasaPound against Il Messaggero reporter has been archived
The court of Rome rejected a complaint by the far-right movement against Marco Pasqua for an article in June 2013 on a neo-fascist rally
The lawsuit was sent to the archives on October 22. The journalist of Il Messaggero, in the article "Neo-fascist rally pro-Assad, authorization denied: it will be held in a space of CasaPound", wrote that the meeting would also be attended by some French skinheads, allegedly linked to the murder of a young activist for gay rights. (continue reading)
RR

I contenuti di questo sito, tranne ove espressamente indicato, sono distribuiti con Licenza
Creative Commons Attribuzione 3.0
Questa pubblicazione è stata prodotta con il contributo dell'Unione Europea. La responsabilità sui contenuti di questa pubblicazione è di Ossigeno per l'informazione e non riflette in alcun modo l'opinione dell'Unione Europea. Vai alla pagina del progetto Safety Net