Threatened journalists. Pietro Grasso: Heed Ossigeno's call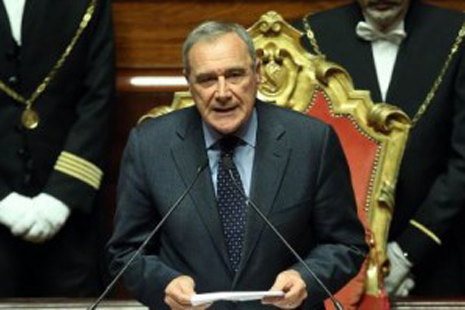 "Crime demands silence and tries to stop uncomfortable journalists. Even bad politics, sometimes", was written by the President of the Senate after the assault against Lirio Abbate
by Pietro Grasso, President of the Senate*
Tuesday, November 11th during Ballarò, in the part of the program devoted to Roberto Saviano and the judgment on the threats of the camorra boss against him and Rosaria Capacchione, an interesting television report on organized crime in Rome was aired, signed by Francesca Fagnani and focused on an interview with L'Espresso journalist LirioAbbate. A half hour of good television, where there was talk of information and crime.
The same evening the car of the police protection on which LirioAbbate was traveling was rammed in the city centre of Rome, and on this occasion also other serious threats have emerged of which the L'Espresso reporter has been the subject for recent months, and for which, for reasons of confidentiality of the investigation, had not been given public notice. Three of the journalists that have been quoted have been living for years under police protection because of their inquiries and Francesca Fagnani, as is clear from articles in recent days, has been subject to threats and intimidation.
These events should be for everyone an opportunity to refocus on an important issue: in Italy since the beginning of 2014, the Association Ossigeno per L'Informazione has documented threats against 352 journalists in 319 days. On their website (notiziario.ossigeno.info) for every threat there is a page with the name of the journalist and their history of professionalism and courage. It is worth to scroll that long list because, on top of the names mentioned and others well-known to the general public, there are dozens of local journalists who firmly oppose the small and big criminals of their territory, in exchange for bullets in the mail, shattered glass windows, threatening letters, cut tires, cars torched, insults, beatings and so on.

I contenuti di questo sito, tranne ove espressamente indicato, sono distribuiti con Licenza
Creative Commons Attribuzione 3.0