Threats. The car in which Lirio Abbate was traveling rammed in Rome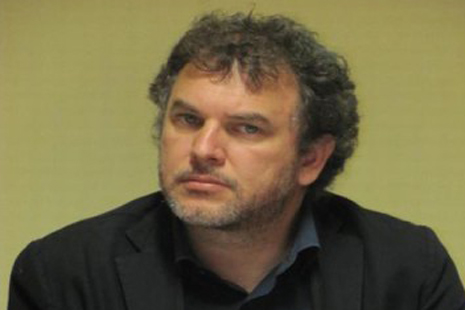 It happened on Tuesday, November 11 around 22pm in the centre of Rome. In September he had received other threats. He published an investigation on fascist groups and the Mafia in the capital city
In the dead of night, a suspicious car, a Renault Clio, chased the car on which the journalist LirioAbbate, reporter for the weekly L'Espresso, was traveling with two men of the police detail, it rammed it and fled. The bodyguards chased the car and managed to block it shortly after, in a column of car waiting behind a traffic light. They stopped the driver, a young man of twenty. The passenger managed to escape and disappear. In the car documents were found relating to a foreign national. Investigators found the episode alarming and are investigating. Currently, neither the identity of the stopped nor that of the fugitive have been announced.
It happened on Tuesday, November 11th in Rome. The reporter, who lives under police protection since 2007, left around 22 pm the L' Espresso's offices, which are near the EUR area in Rome, in Largo Fochetti, along the main urban artery Via Cristoforo Colombo, in the same building that houses the newsroom of the newspaper La Repubblica. The ramming took place in the centre of Rome, along the Tiber River and near the Regina Coeli, on the opposite lane, the one that leads to the Vatican. The chase ended a few hundred meters later at the beginning of Corso Vittorio Emanuele, near the headquarters of the FNSI. On the issue of L'Espresso on newsstands on September 9th 2014, LirioAbbate had published a thorough investigation on the illegal activities on which fascists and the mafia in Rome are working together.See also:I fasciomafiosi alla conquista di Roma
In recent years LirioAbbate has published other investigations into organized crime in Rome, describing the power of four very powerful clans, and their leaders, also known as "the four Kings of Rome" (Casamonica, Senese, Carminati, Fasciani) and the relationship between mob bosses and political neo-fascist realities in the Capital.
It wasn't until now that another act of intimidation against LirioAbbatethat took place in mid-September was revealed: on the seat of a stolen car parked erratically near the offices of L'Espresso, a heavy-calibre gun shell was found and the message "It is for Abbate" attached to it.
THE SOLIDARITY OF OSSIGENO – The Director of Ossigeno, Alberto Spampinato, has said:
"LirioAbbate is a journalist of great value. He is one of the founders and leaders of Ossigeno per L'Informazione. He is a generous man. He has put his notoriety at the service of hundreds of other reporters who live the same problems and have no visibility. The persistent threats against LirioAbbate, who has been living under police protection for seven years because of the death threats received after revealing in a book the complicity that allowed the Mafia boss Bernardo Provenzano to be forty years on the run, show how risky it is in Italy to do investigative journalism, publish relevant information that damage the mafia, the criminals, the corrupt and the colluding. Citizens have the right to know this information. Journalists have a duty to inform, and in a free and democratic society they must do so without suffering threats or retaliation. The Observatory therefore expresses solidarity with Lirio with a collective hug and asks the authorities to strengthen his protection as soon as possible."
Giovanni Tizian rebuilt the story on the website of L'Espresso:Read more
Carlo Bonini on La Repubblica has described the crucial phases as follows: "Tuesday night, after 22 o'clock, Lirio leaves the building that houses the Espresso and Repubblicaoffices in Largo Fochetti, in the EUR district, accompanied by police protection. Three men on a sedan. Someone starts to follow them, gradually shortening the distance, until they almost touch. A Renault Clio, which arouses the curiosity and then the alarm of the police detail. At the height of the Lungoteveredei Tebaldi, where the river crosses the Mazzini Bridge, the police decide for an engagement manoeuvre. The car on which Abbate is traveling makes a screeching halt. The Clio rams it. The bodyguards are about to get off the car, but the Renault, after a quick backtrack, dashed at full speed on the right launching towards the traffic lights crossing Corso Vittorio Emanuele, where it is, however, closed by the traffic. One of the policemen protecting Abbate, gun in one hand and shouting "Police!", jumps on the hood of a car stuck at the traffic light and leaps towards the driver's side of the Clio. The driver is thrown on the curb, while the man who is next to him manages to escape. In so doing, he lost his documents."
ASP

I contenuti di questo sito, tranne ove espressamente indicato, sono distribuiti con Licenza
Creative Commons Attribuzione 3.0