What is going on in Italy – Safety Net Ossigeno – 17th-23rd November2014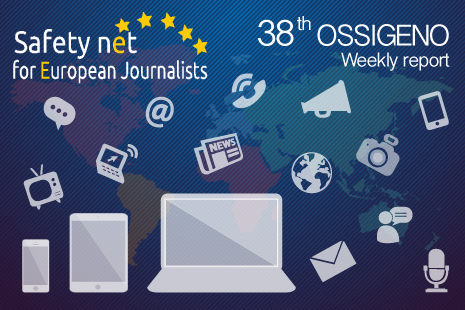 The 38th of 48 weekly reports created with the support of the European Union and disseminated in eleven countries to promote a common awareness
Safety Net Ossigeno – Weekly Report 17th-23rdNovember 2014
What happened in Italy: threatened journalists and obscured news
Not only in Italy journalists and media workers are targeted with intimidation and threats: it is happening following exponentially growing trends in all countries of the OSCE. It is the alarm raised by DunjaMijatović, the OSCE Representative on Freedom of the Media, in Moscow, during the annual meeting of the European Federation of Journalists (EFJ) entitled "Journalism in times of conflict: Impunity, safety and ethics". According to Mijatović there is the need to intensify efforts to break the cycle of impunity.
THREATS – In our country, unfortunately, episodes of conditioning and violence go on unabated: Paolo Macry is not a journalist, but a professor of contemporary history that has been attacked for a column he wrote for the Corriere del Mezzogiorno in which he criticized the protests in Campania against the public works program in Bagnoli, Acerra and Pompeii. On November 13th he has been challenged and insulted by fifteen youths in his office at the University Federico II of Naples.
COMPLAINTS – The former prosecutor Giancarlo Caselli has sued the online newspaper Contropiano for libel for an article published in January 2014 that sharply criticized his work as a public prosecutor. According to the daily, he is guilty of having defended the high-speed Turin-Lyon railway line project.
The Director of External Relations and institutional relations at ANAS (managing company of the motorway network in Italy), Giuseppe Scanni, has instructed his lawyers to sue the journalist CesareLanza, who published a letter on his blog which states that Scanni would be pressing ANAS to replace him with a person of his liking.
In via Torregiani, in the district Bolognina of Bologna, the words "Journalists speak too much, lets shut their mouths" appeared. Armando Sarti, President of the Unitary Democratic and anti-fascist Committee of Bolognina, gave the warning.
THREATS UPDATE – Mariaemanuela Guerra, the prosecutor who had investigated in early months of the Aldrovandi case and who had sued a few journalists from La Nuova Ferrara for the harsh criticism that had been leveled against her, withdrew the complaint: after three and a half years of delays the trail, therefore, will not proceed.
The Court of Milan rejected the request of preemptive seizure made by the heirs of the artist Piero Manzoni, who thought the book Il Ribelle Gentile, la verastoria di Piero Manzoni ("The kind rebel, the true story of Piero Manzoni"), published by StampaAlternativa, defamatory.
It was closed in Genoa the trial for libel against Alessandro Sallusti, editor of Il Giornale, who had been sued for defamation by the parents of Carlo Giuliani, the young man killed during the G8 in 2001, for some statements made during a television broadcast. Sallusti offered 35 thousand euros, to be donated to charity.
Mijatović: threats to journalists are growing exponentially
The OSCE Representative on Freedom of the media at the annual EFJ meeting asks Member States for more effective measures: "The attacks are growing and impunity wins"
Ensuring the safety of journalists and breaking the cycle of impunity are still major challenges to be overcome for the freedom of information. DunjaMijatović, the OSCE Representative on Freedom of the Media, said so at the annual meeting of the European Federation of Journalists (EFJ) entitled "Journalism in times of conflict: Impunity, safety and ethics," which was held on November 21st and 22nd at the central House of Journalists in Moscow.(Continue reading)
Naples. Threats against Corriere del Mezzogiorno columnist
A group of students broke into the office of university professor Paolo Macry. Solidarity from Order of Journalists and political world
On the morning of November 13th, the professor of the University Federico II of Naples Paolo Macry was challenged and insulted by fifteen young people in his office within the Department of Humanities in via Marina.(Continue readding)
No Tav. Caselli files lawsuit against online newspaper Contropiano
For an article harshly critical of his work as a former prosecutor relative to the high-speed railway construction project
Former prosecutor Giancarlo Caselli has sued for libel the online newspaper Contropiano, which calls itself "communist newspaper online", for an article published on the occasion of his retirement in January 2014. (Continue reading)
ANAS. Director of External Relations files lawsuit against Cesare Lanza
Giuseppe Scanni disputes the contents of a letter the journalist has posted on his blog, regarding a hypothetical enrollment within the company
The Director of External Relations and institutional relations at ANAS (managing company of the motorway network in Italy), Giuseppe Scanni, has instructed his lawyers to sue the journalist CesareLanza for a letter that he has received from a reader and published on his blog.(Continue reading)
Bologna. Threatening graffiti against journalists
"Journalists speak too much, lets shut their mouths": this is the writing appeared in via Torregiani, in the district Bolognina of Bologna. (Continue reading)
Lawsuit against reporters on Aldrovandi case withdrawn
The Public prosecutor Mariaemanuela Guerra has withdrawn the legal action against the editor and reporters of La Nuova Ferrara accused of a press campaign against her
Mariaemanuela Guerra, the prosecutor who had investigated in the early months of the Aldrovandi case, and who had sued the journalists of La Nuova Ferrara for the harsh criticism that they had leveled against her, withdrew the complaint: the trial, after three and a half years of delays, eight hearings and three judges, will not go on. (Continue reading)
Book on Piero Manzoni: rejected seizure request
Rejected by the Court of Milan, the complaint brought by the heirs of the artist. They contested the content and the cover
The book on the artist Piero Manzoni, Il ribelle gentile, la verastoria di Piero Manzoni ("The kind rebel, the true story of Piero Manzoni"), published by StampaAlternativa, remains on bookshelves. (Continue reading)
Sallusti compensates the family of Carlo Giuliani. Lawsuit withdrawn
Closed the libel trial in Genoa against the editor of Il Giornale: €35'000 offered to the parents of the young man killed at the G8 in 2001
The lawyer of the Giuliani family explained that Alessandro Sallusti, during an episode of the TV show Matrix aired in 2011, "said for three times that the police did a good job in killing Carlo Giuliani" and added that "he was killed while with a crowbar he was about to kill a policeman, something that obviously never happened." (Continue reading)
RR

I contenuti di questo sito, tranne ove espressamente indicato, sono distribuiti con Licenza
Creative Commons Attribuzione 3.0
Questa pubblicazione è stata prodotta con il contributo dell'Unione Europea. La responsabilità sui contenuti di questa pubblicazione è di Ossigeno per l'informazione e non riflette in alcun modo l'opinione dell'Unione Europea. Vai alla pagina del progetto Safety Net