Ardea (Rome). In flames the car of Luigi Centore. It is not the first time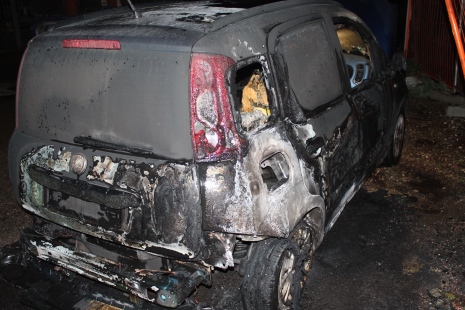 The flames around 2:30 at night, between January 20 and 21. The journalist: "By now I live in fear and terror"
The car of the journalist Luigi Centore was burned down last night. The Fiat Panda was parked under his house in Ardea, a township thirty kilometres from Rome. He himself gave announced it two hours later in a text message. Surveyor, journalist and blogger, Centore has been complaining for some time, along with others, of the strong presence of organized crime in the area. He had already suffered other arson attacks: the first on July 10, 2013.
THE STORY – Contacted by Ossigeno, Centore said he heard a loud explosion at 2:30: as he discovered the fire he called the fire brigade and the police, while trying to extinguish the flames himself. The soldiers arrived shortly after from the barracks of Anzio. On the spot arrived also the commander of the Lieutenancy, Major Ugo Floccher.
ARDEA – The arson attacks at Ardea, Centore recalls, started three years ago: politicians, local administrators, former policemen, law firms, they have been affected. To burn were cars, buildings, and even the municipal engineering department.
On the territory for years the drug trafficking and illegal commercial activities have been rampant and on several occasions assets owned by criminals were seized.
In recent times, among other things, Centore has written extensively on the degradation of the Salzare district – an area of more than 700 acres for public use, prey to numerous squatting – denouncing the lack of controls on the part of law enforcement.
"Ardea has had enough. I now live in fear and terror. I have lost hope that something can get on top of this sad situation", Centore writes.
Ossigeno per l'Informazione expresses its solidarity to the journalist, calling for attention on the living conditions of many journalists from the province, victims of threats, abuse and intimidation that rarely reach the attention of the national media.
MF

I contenuti di questo sito, tranne ove espressamente indicato, sono distribuiti con Licenza
Creative Commons Attribuzione 3.0